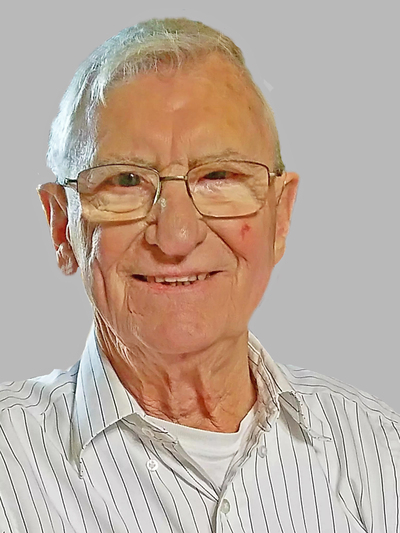 85
Sioux Falls, SD
February 2, 2021
Donald J. Hardegger was born August 7, 1935, to Arthur and Stephanie (neé Tupy) Hardegger in Sioux Falls. He graduated from Washington High School in 1953.
Don started working, selling newspapers on street corners and delivery routes for seven years. He was a stock boy at Woolworth and later became plant manager for Harold's Film Service, which later was bought out by Fuji Photo. After 49-½ years with Harold's/Fuji, Don retired in 2005.
In May 1955, Don was united in marriage to Donna J. Erickson in Hartford. The couple had four daughters, Deb, Carol, LeAnn and Charlene. Donna passed in 1988. On April 25, 1992, Don was united in marriage to Joyce B. Anderson in Sioux Falls.
Following Don's retirement, he worked part-time at Sanford Hospital as a valet for eight years. Don enjoyed traveling, yard work, card club and spending time with his grandchildren.
Grateful for having shared his life are his wife, Joyce of Sioux Falls; daughters, Carol (Steve) Hartman of Alcester, LeAnn Swearingen of Sioux Falls, Charlene (David) Humphreys of Windsor, Mo., Sandra Lewis of Sioux Falls, Laurie Wilkins of Sioux Falls and Susan (Paul) Lathrop of Sioux Falls; sons, Clark (Kerrie) Anderson of Hayden, Idaho, Jan (Dorothy) Anderson of Sioux Falls and William James Anderson of Sioux Falls; son-in-law, Chuck VanDyke; 21 grandchildren, 33 great-grandchildren and two great-great-grandchildren; brothers, Robert (Beverly) Hardegger of Bull Head City, Ariz. and Edward Hardegger of Seattle, Wash.; and numerous nieces, nephews, cousins and many dear friends.
Donald is preceded in death by his parents; brother, Charles; sister, Dorothy; his first wife, Donna; daughter, Deborah; and son-in-law, Randy Wilkins.
Memorial service will be held 1:00 pm on Saturday, April 24, 2021 at Rustic Hills Community Church, 4500 E. Fernwood Drive, Sioux Falls. A visitation with family present will be held from 5:00 – 7:00 pm on Friday, April 23, 2021 at Miller Funeral Home – Downtown, 507 S. Main Ave., Sioux Falls.
Arrangements provided by Miller Funeral Home.