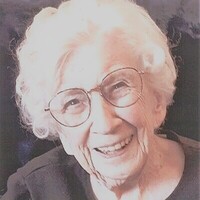 101
Brandon, SD
March 24, 2021
Edith was born on December 7, 1919, at Crooks, to Maurice and Ida (Holmstrom) Finch. She attended the Crooks Grade School and graduated from Lyons High School in Lyons. On December 17, 1938, she married Walter Borgen in Beresford. They lived and farmed on the Borgen Homestead east of Crooks until 1941 when they moved into Crooks. In 1958, they moved to Brandon and lived there until moving to Colorado in 1969. They returned to South Dakota in 1976 and lived in Valley Springs until moving into Brandon in 2003. Walter died on December 29, 2007.
Edith was a member of Brandon Lutheran Church. She loved singing. Edith sang her first solo at the age of five in Swedish at Benton Lutheran Church and she was a member of the Brandon Lutheran choir. She also loved flowers and feeding the birds.
Grateful for having shared her life are her daughters, Carolyn (Paul) Thoreson and Jeanette Moore; five grandchildren; six great-grandchildren; and three great-great grandchildren; and many nieces and nephews.
She was preceded in death by her parents; husband, Walter; one brother and three sisters.
The family requests that memorial donations be directed to Bethany Lutheran Home "In Memory of Edith Borgen".
Funeral services were held March 29, 2021 at Brandon Lutheran Church, Brandon.
Arrangements provided by Minnehaha Funeral Home.