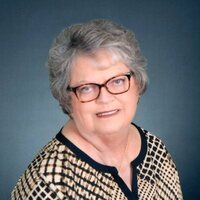 74
Sioux Falls, SD
(formerly Hartford)
September 5, 2021
Gloria Jeanne Lewis was born on May 10, 1942, in Mitchell, to Elmo C. Lewis and Mae (Lee) Lewis. She was raised and graduated from Parkston High School in 1965.
Gloria was wed in marriage with Gary E. Krier on December 6, 1968, at the Cathedral of St. Joseph in Sioux Falls. They made their home in Sioux Falls until 1974 and then moved to Hartford. They raised four children together, David, Kris, Bryan and Karyn.
Gloria became a telephone operator when she was 16 in Parkston and upon graduation moved to Sioux Falls to continue her career. Over the years, Gloria was promoted numerous times and eventually became an Engineer with U.S. West Communications where she retired after 25 years of service.
Gloria enjoyed dancing with Gary, playing cards and golfing in her younger years. Upon retiring, Gloria and Gary had a wonderful life in both Hartford and Goodyear, Ariz., where she collected an immeasurable amount of extraordinary friends that she cherished in her last years. Above all, she has loved and adored all of her children, grandchildren and great-grandchildren until the end.
Grateful for having enjoyed her life are her husband of almost 53 years and her children that have provided her with grandchildren that have grown the family by 16 great-grandchildren, and that have filled her last years with much love and joy.
Those of you that have spent time with Gloria have watched the struggle that she has endured for the last decade of her life, always with a smile on her face and quick wit. She finally succumbed to lung cancer (not without a fight). She will be missed greatly by all that had the pleasure of experiencing her joyful presence in this world.
Gloria was preceded in death by her parents Elmo and Mae, along with her two brothers Marlowe Lewis, E.C. "Buck" Lewis, and her beloved sister Marilyn Holthe.
A Funeral Mass was held Friday, September 10, 2021, at St George Catholic Church. The family requests no flowers and that memorials be directed to the Avera Dougherty Hospice House in Gloria's name.
Arrangements provided by Miller Funeral Home.