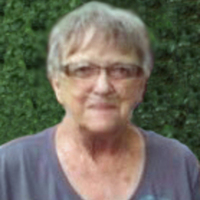 82
Sioux Falls, SD
October 18, 2021
Betty Jane Olthoff died at her home in Sioux Falls. She was born on October 4, 1939, to Henry and Florence (Jorgensen) Terhark in Balaton, Minn. She was raised on a farm south of Balaton and graduated from Balaton High School.
Betty was united in marriage with Donald Dale Olthoff on March 26, 1960. The couple lived in Amery, Wisc., Balaton, Minn., before making their home in Worthington, Minn., and were blessed with three children, Pamela, Penny and Dale.
Betty worked for the Campbell Soup Company for over 35 years in Worthington. Following the closing of Campbell's in 1997, Betty made her home in Sioux Falls to be near her family. While in Sioux Falls, Betty worked part-time at Sanford Health before her retirement.
Betty was a gifted artist and loved drawing, painting, creating crafts and decorating her home for the holidays. She loved spending time outdoors tending to her flower gardens and camping when her children were younger. She also enjoyed bowling, traveling (where she would collect spoons from each state she visited), collecting pencil sharpeners, watching the Hallmark Channel and her soap operas and cheering for the Green Bay Packers. Above all, she cherished the time spent with her family, especially playing card games with her grandchildren. Betty was a loving mother, grandmother, great-grandmother, sister, aunt, cousin and friend who will be dearly missed.
Grateful for having shared her life are her three children Pamela (Eric) Hare, Wentworth, Penny (Jeff) Grimmius, Lake Park, Iowa, and Dale (Trish) Olthoff, Crooks; six grandchildren Tyler Hare, Blaine Hare, Jeremie Paulson, Chelsee Olthoff, Linzee (Cody) Walters and Kayda Olthoff; five great-grandchildren, Miylee Olthoff, Maycee Olthoff, Chloee Walters, Joe Grimmius and Toby Grimmius; one brother, Jerry (Beth) Terhark of Tyler, Minn.; three sisters, Mary Carlson of Rushford, Minn., Carol Fielder of Tuttle, Okla., and Barbara Dokka of Oakdale, Minn.; many nieces, nephews, other relatives and friends.
She was preceded in death by her parents Henry and Florence Terhark; two brothers Jim Terhark and Arnold Terhark; one sister Shirley Nelson; and a great-granddaughter McKenzee Walters.
A public visitation was held on Friday, October 22, at George Boom Funeral Home & On-Site Crematory in Sioux Falls.
Arrangements provided by George Boom Funeral Home.