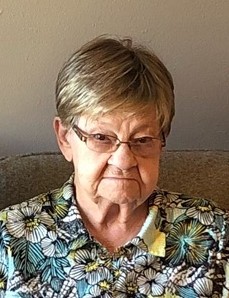 95
Dell Rapids, SD
(formerly Crooks)
May 5, 2022
Charlotte Ann Boysen, age 95, of Crooks, passed away on Thursday, May 5, at Dells Nursing and Rehab in Dell Rapids. Mass of Christian Burial was held on Wednesday, May 11, at St. George Catholic Church in Hartford. Interment was in St. Michael Cemetery, Sioux Falls.
Charlotte was born on October 2, 1926, in Sioux Falls, to Ben and Ruth (Oppold) Lucas. Ben and Ruth raised her on a farm southeast of Sioux Falls before later moving to the family farm south of Crooks. Here, Charlotte attended Cathedral High School in Sioux Falls until graduating in the spring of 1944. Three years later, on May 17th, she married Hobart Boysen at St. Joseph Cathedral in Sioux Falls. Hobart and Charlotte continued to live in Sioux Falls until they moved back to the Crooks area in 1953.
Back in Crooks, Charlotte enjoyed spending her time within the community and was a part of the St. Joseph's Cathedral Club, Crooks VFW Auxiliary, the Crooks Optimist Club, and drove school bus for the Tri-Valley School District for 11 years. She also enjoyed spending time outside, especially tending to her yard. In 1989, Hobie and Charlotte participated in the South Dakota Centennial Wagon Train which covered 1,764 miles in a 3-month span to commemorate South Dakota's 100th anniversary of statehood. To Charlotte and Hobie's delight, children and grandchildren would frequently join them on their journey along the way. Moments like this is what exemplified what Charlotte loved most: spending time with her family. Together, Hobie and Charlotte raised seven children until Hobie passed away on November 22, 1992. Later on, Charlotte found continued enjoyment spending time outdoors and frequently attended bus trips that explored various locations throughout the Midwest while continuing to sew quilts for her ever-expanding family.
Survivors include her seven children: Tim Boysen, Presho; Linda (Dave) Klein, Fort Scott, Kan; Dennis (Carol) Boysen, Wentworth; Cheryl (Dennis) Klein, Crooks; Debra (Steve) Klein, Sioux Falls; Kevin (Deborah) Boysen, Sioux Falls; and Kelly (Deb) Boysen, Hartford; her 16 grandchildren, forty-four great grandchildren and two great-great grandchildren; her brother David Lucas, Darby, Mont; sister-in-law, Joyce Lucas, Chamberlain; and many other relatives and friends. She was preceded in death by her husband, Hobart; her parents Ben and Ruth Lucas; grandsons, Skylar Boysen and Shawn Klein; great grandson, Bryson Wilking; daughter-in-law, Peggy Boysen; and brothers, Donald and Danny Lucas.
Funeral services provided by Miller Funeral Home.