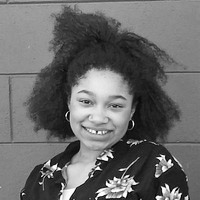 14
Sioux Falls
March 15, 2021
Aerial Marie Rose Ojo-Serbus, daughter of Lisa Serbus and Ayodele Ojo was born July 9, 2006, in Willmar, Minn. They have lived in the Sioux Falls area for the last 12 years. She had many talents including dancing, drawing and she was the Queen of DIY Projects called her "Marfa Messes". Her big smile and hearty giggle were her trademarks. Aerial was a ball of fire and her fiercely independent soul will be missed by all who knew her.
Left to cherish her memory are her mother, Lisa of Sioux Falls; father, Ayodele of St. Paul, Minn.; siblings, Emma (Zachary Earley) Aasen of Hartford, Mitchell (Hanna Lang) Aasen of Willmar, Minn.; nephew, Liam Earley; grandparents, Doug and Donna Serbus of Redwood Falls, Minn.; aunts and uncles, Lori (Mike) Brown of Battle Lake, Minn., Linda Mogard of Glencoe, Minn., Daryl (Kris) Serbus of Clearwater, Fla., Cherry Brockway of Sioux Falls, and Kea West of San Diego, Calif.; along with cousins, relatives and friends.
True to her caring and loving nature, she was able to donate her vital organs to save the lives of others. Funeral services were held Wednesday, March 24, at George Boom Funeral Home & On-Site Crematory, Sioux Falls.
Arrangements provided by George Boom Funeral Home.