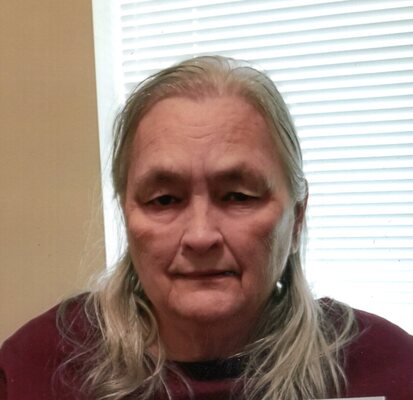 72
Sioux Falls, SD
January 11, 2022
Barbara Meyer, daughter of Henry and Hazel (Hagstrom) Meyer, was born on December 15, 1949, in Watertown. She grew up and received her education while moving from different foster homes growing up.
Barbara was united in marriage with James Eichhorn on December 16, 1971, in Luverne, Minn. The couple was blessed with four children, Donnie, Ronnie, Tina and Bobby. Barbara remained at home to raise the family and later worked in home health at the Prairie Freedom Center. She worked with Interim Home Health Care and then obtained a position as a CNA with Southridge Healthcare in Sioux Falls where she worked until ill health prevented her from continuing.
Barbara was a huge fan of crosswords, puzzles and solitaire. She cherished time spent with family and would play for many hours with the grandchildren on video games. She was an Elvis fan at the core of her being and found time to make crafts for loved ones.
Grateful for having shared her life are her children, Donnie (Stacy L.) Eichhorn, Lennox, Ronnie Eichhorn, Sioux Falls, Tina (Homer) Woodson, Canton, Bobby (Stacy J.) Eichhorn, Sioux Falls; siblings Bob (Lisa) Meyer, Sioux Falls, Dar Nipp, Sioux Falls, Kathy Kropuenske, Sioux Falls, Carol (John) Hash, Sioux Falls, Mary Meyers, Hartford, Mark (Donna) Uhrich, Sioux Falls, Norma (Delayney) Steeneck, Oldham, Deb Engles, Beresford, Shelia (Randy) Boehrns, Sioux Falls, Shelly (Mike) Peterson, Hills, Minn., Rosie (Mike) Dykshorn, Parker, Russ Meyer, Sioux Falls; 17 grandchildren; great-grandchildren; several nieces and nephews; and many other relatives and friends.
Barbara was preceded in death by her parents; her husband James; two sisters, Char Meyer and Tammy Potter; brother Brad Meyer; brothers-in-law Gary Nipp and Dale Kropuenske; and niece Traci Atkinson.
A funeral service was held Friday, January 14, 2022, at the Miller Southside Chapel, 7400 South Minnesota Avenue.
Arrangements provided by Miller Funeral Home.