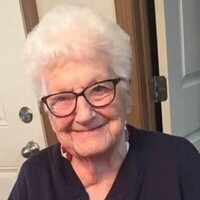 96
Sioux Falls, SD
October 6, 2021
Bettie Jean Bartling was born on July 26, 1925, in Madison to Fred and Rebecca (Smith) Bartling. She attended Madison public schools and graduated from Madison's Beadle High School in 1942. Bettie was engaged to James J. Fitzpatrick in December 1943. The couple was married on December 26, 1944, in Madison.
Bettie and her new husband "Jim" farmed for a short time near Tea before moving to Canton where they lived near Bettie's family. In 1954, this young family moved to Sioux Falls where Bettie lived for the remainder of her life.
Bettie served in many roles as a Boy Scout Leader, a Little League cheerleading mom, co-chairman of the March of Dimes Mothers' March fundraisers, a chauffeur, a caretaker, a card player, a bowler, a good neighbor, a premier chef, homemade nurse and an all-time all-American mom-grandma-great-grandma and great-great-grandma.
Bettie loved dancing with her beloved Jim, country and gospel music, feeding company, cheering her family in sporting activities, Bible studies, dogs, jigsaw puzzles and caramel candy. Most of all, Bettie loved her family and spending time with each one.
Grateful for having Bettie in their lives are her children, Michael Fitzpatrick, Sr., Patricia Fitzpatrick, and Rick (Mary) Fitzpatrick all of Sioux Falls. Bettie was blessed with seven grandchildren, Cindy (Tim) Tennessen of Lyons, Michael (Julie) Fitzpatrick, Jr. of Sioux Falls, Heather (Ryan) Loehr of Hartford, Virginia (Greg) Ochsner of Sioux Falls, James (Natalie) Fitzpatrick of San Diego, Calif., Melanie (Jay) Mills of Brandon, and Joe (Michele) Fitzpatrick of Chaska, Minn. Also holding a huge piece of Bettie's heart are 17 great-grandchildren and 12 great-great-grandchildren. Bettie will also be lovingly remembered by niece, Linda Hill; nephews, Fred Bartling, Doug Bartling, Tim Bartling and a host of special friends.
Bettie was preceded in death by her loving husband James (February 2, 1996); infant daughter, Rebecca Marie; great-grandson, Jeremiah Tennessen; parents, Fred and Rebecca Bartling; in-laws, James and Irma Fitzpatrick; brothers, Lawrence Bartling, Gordon Bartling, Donald Bartling; and sister Peggy Feagans.
Funeral services were held October 11, 2021 at Sioux Falls Church of Christ.
Arrangements were provided by George Boom Funeral Home.