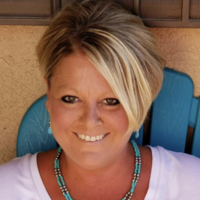 48
Sioux Falls, SD
February 2, 2021
Connie Bakker, daughter of Cornelius and Arlene (Brands) Bakker, was born November 24, 1972, in Huron. She attended school in Valley Springs through 6th grade and graduated from Brandon High School in 1990. She was united in marriage to Michael McDougall on December 29, 2011. They made their home in Las Cruces, N.M. until moving back to Sioux Falls to care for their granddaughter.
Connie and Mike made the perfect team refurbishing antiques, furniture and crafts. She had a love for people and her excellent skills in the service industry allowed her to excel in management of local restaurants, bars and golf courses.
Left to cherish her memory are her husband, Michael of Sioux Falls; son Dylan Bohr of Lennox; parents, Cornelius and Arlene Bakker of Sioux Falls; sister, Joan (Dean) Fischer of Crooks; brothers, Henry Bakker of Brandon and Jeff (Mindy) Bakker of Sioux Falls; granddaughters, Avalon Thompson and Avery Somphanthabansouk of Sioux Falls; and numerous other loving friends and family members.
She was preceded in death by her son, Cole Thompson in 2018.
Visitation with family present to greet friends will take place from 1- 3:00 pm, Sunday, Feb. 7, at George Boom Funeral Home & On-Site Crematory, Sioux Falls. In lieu of flowers please consider a donation to assist with funeral expenses.
Arrangements provided by George Boom Funeral Home.