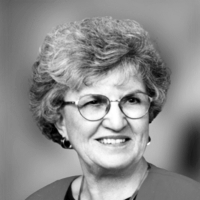 97
Sioux Falls, SD
January 16, 2021
Erna was born July 31, 1923, in Menno to Philip and Katherina (Mehlhaf) Neuharth. One of 14 siblings, she grew up in the Menno area and graduated from Menno High School.
She married LaVerne Decker on August 27, 1946, in rural Menno. They farmed in the Parkston/Milltown area for seven years before moving to Sioux Falls where she worked at Sioux Falls College. In 1959, they moved to the Wall Lake area and farmed there for over 50 years. She worked as an accountant for many years in Sioux Falls. She was a member of the First Congregational Church in Sioux Falls.
Erna enjoyed sewing, traveling, playing cards and gatherings with her Ladies Club. She could play endless rounds of Uno, Sequence and Liverpool Rummy whenever family visited.
Erna was an amazing cook, baked the best bread and tended her garden which fed her family. Everyone, especially her grandchildren, loved her French Toast — hands down the best in the world! Her Thanksgiving turkey dinners were legendary.
She is survived by her children, Patty (Ken) of Sioux Falls, Paulette Candler of Atlanta, Ga. and Lee Decker of Humboldt; five grandchildren, Mary (Randy) Schilling of Sioux Falls, Luke (Amy) Decker of Sioux Falls, Asa (Gaylie) Candler VII of Atlanta, Ga., Callan Candler of Fort Lauderdale, Fla. and Daniel Candler of Atlanta, Ga.; five great-grandchildren, Rilyn and Bram Schilling, Clara, Lincoln and Eli Decker, Asa VIII and Bayne Candler; and one sister Arlene Walz of Menno.
She was preceded in death by her husband LaVerne on September 26, 2018; her parents; five brothers, Leon, Ray, Elmer, Marvin, Phil; seven sisters, Bea, Alma, Ida, Verlinda, Viona, Elda, Norma; and son-in-law Asa Candler VI.
Memorials may be directed to the First Congregational Church of Sioux Falls, SD.
Due to COVID, a private family service was held with burial beside her husband in the Black Hills National Cemetery.
Arrangements provided by George Boom Funeral Home.