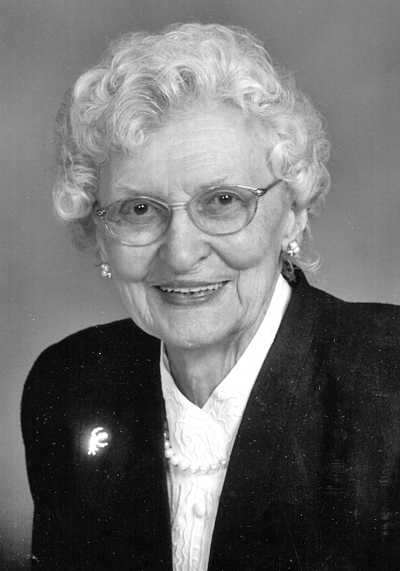 102
Saturday, May 9
Formerly Humboldt
Gladys was born on June 30, 1917, on a farm south of Humboldt, to George and Mahala Rehfeldt. Her baptism and confirmation were held at West Wall Lake Church in Hartford. She attended country school and the Humboldt High School through ninth grade. As her mother's health required her to stay home after ninth grade, she worked on the farm cooking, tending to livestock and helping in the fields.
On Jan. 30, 1940, she was united in marriage to Marvin Halstenson at First English Lutheran Church in Canby, Minn. The couple resided in Canby for seven years before moving to Sioux Falls in 1947.
Gladys loved to cook, a skill she learned at an early age. This showed as she worked as a cook in restaurants in Canby and for two years in the Coffee Cup Cafe that she and her husband owned in Sioux Falls. Gladys was quite well known for her baking as she loved to make her special cinnamon rolls, lefsa, rice pudding and pies that she shared with her children, grandkids and friends. She was recognized as "cook of the week" in the Argus Leader and as Lefsa Queen in the Syttende Mai Norwegian Day Parade. She also worked as a house cleaner for multiple years and developed many lifetime friendships with people she worked for.
Gladys savored many trips with her family and other trips to visit family and friends. Gladys held the importance of family close to her heart. She was always there to help in any way, especially when it involved caring for her grandchildren, who she loved dearly. She especially enjoyed having them for sleepovers when they were young and going to an assortment of their activities as they grew up.
Gladys was a member of First Lutheran Church where she was involved in circle, ALCW and the annual church bazaar as the lefsa lady. For many years she was a church-friendly visitor who enjoyed bringing a little cheer to people at nursing homes. She was also involved in scouts as a den mother, a lifetime member of PTA, Augustana Auxiliary and Augustana Fellows. She was also a huge fan of a variety of Augustana athletics.
She is survived by her sons, Lee (Jan) Halstenson and Paul (Barb) Halstenson; grandchildren, Staci Wolff, Corey Halstenson and Chad (Kari) Halstenson; seven great-grandchildren; and one sister, Judy Lee Delaney of N. Kansas City, Mo. She was preceded in death by her husband, Marvin; parents, George and Mahala Rehfeldt; infant son, Terry; grandson, Jeremy; and brother, Arlie Rehfledt.
Private family services were held Wednesday, May 13. Memorials may be directed to Augustana University Athletics or First Lutheran Church Media Ministry.
Arrangements were provided by Miller Funeral Home.