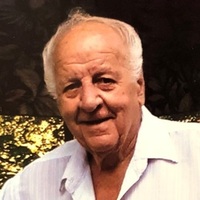 86
Valley Springs, SD
March 28, 2021
Kenneth Schuldt, son of Herman and Margaret (Jantz) Schuldt was born January 26, 1935, in Hartford. He attended school through the 8th grade when he was needed to help on the farm. He enlisted in the United States Navy, earning his Honorable Discharge. He was united in marriage to Rosy Hanson in 1953.
Kenny was always quick with a joke or funny story to put a smile on his friends' faces. His favorite place to be was at Walmart where he could see people. He was a painter for Fischenich Painting for the last 15 years, and was working right up until COVID spread. Kenny had a special place in his heart for Shawndrel (his very own hairdresser and very close friend) and her husband, Casey. They, along with their children, soon adopted Kenny as their grandpa.
Left to cherish his memory are his daughters, Gina Schuldt and Lisa Maxwell both of Valley Springs; grandchildren, Michael Person of Colton and Me'Shaya (Adam) Tripp of Hartford; great-granddaughter, Twila; brother, Les (Helen) Schuldt of Sioux Falls; and his beloved cat, Bootsie.
He was preceded in death by his parents; wife, Rosy; four brothers, Duane, Norm, Robert and Dick Schuldt.
A family-directed Celebration of Life gathering will be from 11 am to 3 pm on Saturday, April 3, at the American Legion Hall in Valley Springs. Military Honors with gun salute are scheduled for 11:30 am, also at the Legion Hall.
Arrangements provided by George Boom Funeral Home.