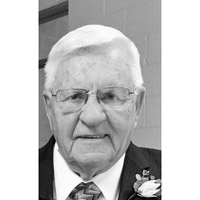 84
Sioux Falls
March 20, 2021
Lyle was born on December 4, 1936, to Lewis and Emma Johnson in Clarno Township, Lake County, Winfred. He was baptized and confirmed at Salem Lutheran Church.
Lyle graduated from Orland High School in 1955, and in 1960 he graduated from South Dakota State University with a degree in Agriculture Engineering. Lyle was in the ROTC during college and ultimately received an honorable discharge from the United States Army as a First Lieutenant. Lyle was employed as the Plant Manager at Dakotaland Fertilizer in Madison, which later became Terra Chemical. After a long career of helping many farmers in Lake County grow the best crops they could, Lyle retired in 2000.
Lyle married Sandra (Sandi) Redlin on April 14, 1962, in Watertown. They made their home in Madison. They spent over 30 summers at their River home at South Whitlocks near Gettysburg, where he enjoyed walleye fishing, visiting with friends and passing on his love of the outdoors to his children and grandchildren. Every fall, Lyle enjoyed hunting elk, deer and geese. Lyle also had a lifelong passion for playing the violin and the harmonica. He played with the South Dakota Old Time Fiddlers and the Rocky Mountain Boys.
Grateful having shared his life are his wife of almost 59 years, Sandi; son Mark (Leslie) Johnson, Crooks; daughters Melani (Troy) Hanisch, Rosemount, Minn.; and Marla (Scott) Muller, Rogers, Ark. Lyle was a proud grandfather to Carl (Brooke) Johnson, Emma (Zach) Dorgan, Austin Hanisch, Ellie Hanisch, Jackson Muller, Ava Muller and great-grandfather to Rhett and Riggs Johnson and Kordella Dorgan. He is also survived by two sisters Elaine (John) Barrick and Jeanette Hoek; brother Virgil Johnson; brother-in-law Dennis Satterlee; sister-in-law Roxanne (Ralph) Martens, brother-in-law Rod (Lana) Redlin and numerous nieces and nephews.
Lyle was preceded in death by his parents, Lewis and Emma Johnson; two sisters, Marlys Satterlee and Myrtis Johnson; brother-in-law Gene Hoek; and granddaughter Mallory Muller.
Funeral services were held Thursday, March 25, at Our Savior Lutheran Church in Madison. Burial followed at Graceland Cemetery.
Memorials may be sent to Our Savior Lutheran Church Memorial Fund or to the Gift of Life Transplant House, Rochester, Minn.
Arrangements provided by Kinzley Funeral Home.