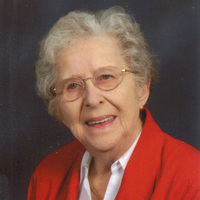 100
Sioux Falls, SD
November 12, 2021
Marguerite Catherine Clark, daughter of Jones and Josephine (Ziegler) Clark, was born October 19, 1921, in Sioux Falls. The family had moved to Humboldt and Spencer. Marguerite returned to Sioux Falls in 1936 where she stayed with relatives and graduated from Washington High School in 1939.
Marguerite was united in marriage with Raymond Barrett on November 11, 1939, in Epiphany. They were blessed with three children, Richard, Jane and Tom.
She began working at John Morrell and Co. in 1948 where she worked until her retirement in 1982. Her husband, Raymond passed away in 1992.
Marguerite was a longtime member of St. Michael Catholic Church where she was active with the Altar Guild helping with funeral lunches. She enjoyed traveling, especially Las Vegas. She had also traveled to Spain, Africa and Hawaii. She enjoyed reading and playing the organ.
Grateful for having shared her life are her children, Richard "Dick" (Kathy) Barrett, Sioux Falls, Jane (Bob) Schavee, Sioux Falls; six grandchildren; six great-grandchildren; five step-grandchildren; 13 step-greatgrandchildren; 30 step-great-great grandchildren; a sister, Ruth (Henry) Scheuren, Epiphany; nieces, nephews and several other relatives and friends.
She was preceded in death by her parents; her husband, Raymond; a son Tom; a brother Edward Clark; two sisters, Florence Gruhlke and Eulalia Koll.
Funeral Mass was held November 16, at St Michael Catholic Church, Sioux Falls with interment at St. Michael Cemetery, Sioux Falls.
Arrangements provided by Miller Funeral Home.