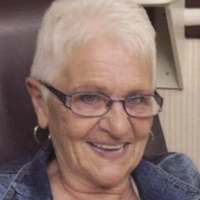 75
Hartford, SD
February 11, 2021
Marianne was born in Rapid City to Richard and Betty (Ross) Plouf. She moved to Watertown as a young girl where she later graduated from Watertown High School.
In 1963, Marianne met the love of her life, Larry Englund. They were united in marriage on August 12, 1964, in Pipestone, Minn.
Marianne worked for UPS for several years before finally retiring. After retiring from UPS Marianne enjoyed running a daycare where she watched several of her grandchildren, along with some neighborhood children. She was a longtime member of the Red Hat Ladies, Rolling Thunder Club and the American Legion Auxiliary.
Marianne and Larry enjoyed traveling throughout the United States on motorcycle. They enjoyed a cruise to Alaska together and an Amtrak train to Oregon many years ago. They had many favorite trips including their yearly trip to the Sturgis Rally. During the summertime, you could find them at their camper near the Missouri River. In the winter months they enjoyed snowmobiling, but in 2012 they became snowbirds and found their paradise in Apache Junction, Ariz. They enjoyed riding their side-by-side in the desert with many new friends they had met. NASCAR racing was also a favorite as they went to several races.
Happy-go-lucky and friendly, Marianne always had a smile on her face. She was always busy doing something for someone else. She was a very talented baker and loved to do crafts in her free time. Her caring and spitfire spirit will be forever cherished.
Grateful for having shared her life are her husband, Larry of Hartford; her children, Dawn Matthies, Sioux Falls, Russ Englund (Beth) and Tim Englund (Julie), of Hartford; eight grandchildren and nine great-grandchildren; sister Barb (Doug) Daily, Horseshoe Bay, Texas, brother Michael (Toni) Plouf, Essex, Conn.; and two furry companions, Harley and Sophie.
She was preceded in death by her parents and sisters, Kathy and Lynda.