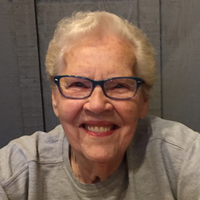 84
Tea, SD
November 3, 2021
Marilyn was born to Freeman and Mildred (Traxinger) Hansman on June 11, 1937, at Watertown. She grew up in Hazel and graduated from Brookings High School in 1956. She then attended Gustavus Adolphus College in St. Peter, Minn., before enrolling at General Beadle College in Madison.
Marilyn married Dale DeBoer in November of 1957. They had two children, Julie and Jeff.
Marilyn married Duane Drewes in 1989. They lived at Parker before moving to Colton. Duane passed away in 2015.
Marilyn attended hairstyling school and operated a hairstyling business out of her home. She was a lifelong sports fan. In her younger days, Marilyn played softball and enjoyed league bowling. In 1975, Marilyn and her bowling team participated in a national tournament that was held in Milwaukee, Wis.
Marilyn was an avid fan of the Minnesota Vikings and was disappointed by their recent 4-point loss to the Dallas Cowboys.
Marilyn is survived by her daughter, Julie Nelson, and her husband, Jerry, of Volga; her son, Jeff, and his life partner, Doreen Black, of Tea; two grandsons and one great-grandson.
Marilyn had lived with Jeff and Doreen for the last five years. She enjoyed Jeff's cooking and was very thankful for Jeff and Doreen's companionship.
Marilyn was preceded in death by her parents and her brother, Kenneth Hansman.
Private family services will be held.
Arrangements provided by Minnehaha Funeral Home.