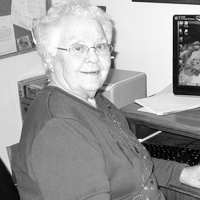 94
Saturday, March 21
Marlys was born Dec. 6, 1925, at the Montrose farm home of her parents, Ferdie and Colletta (O'Hara) Erickson, and lived there until the death of her father, Ferdie, in 1936. The family, Colletta, Marlys, Bob and Colleen moved to Buffalo Township where they made their home with grandpa Pat O'Hara. During her youth, Marlys enjoyed going to dances with her mother, running around with her extended O'Hara cousins and helping grandpa O'Hara with chores. She also enjoyed traveling/road camping with her family in their '36 Chevy. On their Black Hills trip, she and her brother, Bob, climbed Harney Peak.
While attending Humboldt High School, Marlys kept her eye on the Zimmer boys. In her senior year, her family moved to Sioux Falls. Marlys was a 1943 graduate of Cathedral High School. After high school she completed her teacher's certification, taught at Evergreen Country School and then worked in the office at Morrell's. In 1944, she traveled to El Paso, Texas, where she married the love of her life, Gene Zimmer, who was a soldier in the Army Air Force.
Marlys returned to Sioux Falls when Gene was deployed to England. After his discharge, Marlys and Gene made their home in Sioux Falls and were blessed with the perfect family, five boys and five girls. As a mother and homemaker, Marlys devoted herself to Gene and the kids. On Western Avenue, she made many lifelong friends and was near her sister, Colleen and her mother, Colletta.
In 1971, the family moved to "the farm" near Montrose where Marlys and Gene reconnected with the friends of their youth. When not busy with her family, she enjoyed visiting with neighbors, card parties and feather parties. She also worked as an Avon lady and for the U.S. Census Bureau as an interviewer.
After retiring from active farming, Marlys and Gene traveled throughout the lower 48 states and Alaska. They spent many summers at West Whitlock Resort where Marlys and the "Early Riser" enjoyed fishing for walleye.
Marlys was well ahead of Facebook. Much to the chagrin of her children, she never sat down next to a stranger without starting a conversation. It was the six degrees of Marlys Zimmer. She would connect with you and the people you had in common. None of this "friending" people online. She just struck up a conversation, tucked your name in her memory and you became her "friend".
Marlys was also years ahead of Ancestry.com. She worked on family genealogy, the hard way by finding relatives and pumping them for information. She amassed a wealth of O'Hara, Erickson, McDonald, Chalberg and Zimmer family histories. She shared this history by writing and distributing family history booklets. She was not content with mere lineage. She wanted us to know the rest of the story, so she continued writing Seven Who Served (WWII); From Sweden to America; Rambling Memories (her story); and many more booklets that she self-published and distributed. Her genealogy work and stories created a great legacy for her family.
Carrying her memory forward are seven of her 10 children, Suzanne (Ken) Jimmerson; Beverly (Gordon) Underwood; Patricia (PatiO) Zimmer; Kenneth (Tina) Zimmer; Nita (Steve) Carey; Gary (Susan) Zimmer and Brian (Roxane) Zimmer; her 18 grandchildren and her 26 great-grandchildren. Marlys is also survived by in-laws, Mary Jane Erickson, Plymouth, Minn; Donald Futrell, Sioux Falls; Tom (Lynne) Zimmer, Sioux Falls; Rita (Jack) Wear, Erie, Pa. and Lois (Harold) Arnold, McIntosh.
Marlys was predeceased by Gene, her husband of 74 years and nine months and three of her children: Nicholas Zimmer, Roger Zimmer and Jacqueline Halbritter; her father, Ferdie Erickson; her mother, Colletta Erickson Foster; her stepfather, Richard Foster; her sister, Colleen Futrell and her brother, Robert Erickson. Predeceased in-laws include the Zimmer boys: Walter, LeRoy, Harold, Francis, Paul and Stanley and the Zimmer girls: Mary Gruenke, Marcella Keating and Margaret Huls.
Services will be held at a later date. Kinzley Funeral Home was in charge of arrangements.