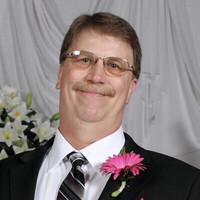 65
Crooks, SD
March 22, 2021
Randall Leslie Larson was born on August 6, 1955, in rural Canistota, to Nuel and Alice (Parker) Larson. He was raised on the family farm in rural Canistota. He attended Canistota School where he graduated in 1973. He was known as "Gus" by many friends and was active in football and wrestling. He was everyone's friend.
Randy enjoyed helping his father on the family farm; however, he had an extreme dislike for his father's chickens. He and his three sisters created many wonderful memories helping their folks with their family farm.
Randy left Canistota after graduation and took a job at Sunshine Foods where he resided in Sioux Falls. He then met Donna Fredricks and they married on September 10, 1983. They had one son together named Matthew.
Randy later worked for Heartland Paper Company as an in-town delivery driver for many years and then took various truck driving positions.
In his free time, Randy enjoyed hunting and fishing with his friends and son. He shot trap leagues for many years where he won several awards for his talent. Randy loved going to the races to watch his son compete. He took pride in all of his families accomplishments. He was an avid San Francisco 49ers fan and he always liked to tease his family if they had an opposing team. Family was a huge priority to him. He enjoyed spending time with his friends, numerous family members and he loved spoiling his grandchildren. He loved taking them for ice cream or to the Parker Fair.
Randy will be missed by many but never forgotten. His survivors include his son Matt (Amanda) Larson of Sioux Falls, Diana Brandvold of Sioux Falls, Sandy (Joe) Farley of Casper, Wyo., Mary (Jerry) Rennich of Sioux Falls and four grandchildren (James, Caleb, Jackson and Robert). His parents, Nuel and Alice, preceded him in death.
Funeral services were held March 27 at Zion Lutheran Church in Canistota.
Arrangements provided by Kinzley Funeral Home.