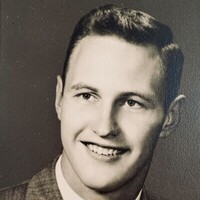 92
Crooks, SD
January 1, 2021
George Nielson was born in Sioux Falls on January 22, 1928, and grew up working hard on his family's depression-era farm near Crooks. His parents were Otto John Nielson (from Copenhagen, Denmark) and Tina (nee Johnson) from Crooks. George was valedictorian of Lyons High School (class of 1946). He served with the U.S. Army military government in Korea, graduated from Gustavus Adolphus College (class of 1952) in St. Peter, Minn., taught mathematics in Comfrey, Minn., earned his M.Div. from Augustana Theological Seminary, in Rock Island, Ill. (class of 1957). There he met his wife, Ruth Vivian Hall, a nursing student. He went on to serve as a minister at Amana Lutheran Church (Augustana Synod) in Scandia, Kan. (1957 to 1966). He earned a Ph.D. in sociology at Kansas University in Lawrence, Kan. (1972) and became a professor of sociology, film and computer science at Dakota Wesleyan University in Mitchell and a farmer north of Sioux Falls near Crooks.
He was a man of many and varied interests, a principled liberal, a practical idealist, a farmer, a teacher and professor, a minister, a scholar, a person of joy and positive energy, an athlete, a gentle soul with a much-appreciated sense of humor, respectful of tradition but not constrained by it, an iconoclast and provocateur who asked the toughest questions, a humble and admirable role model without seeking the spotlight – an example to live up to.
He was preceded in death by his wife, Ruth, and he missed her deeply. His family was central to his sense of his place in the world. He is survived by his sister, Florence Moller; his sons, David (Nina) in Great Falls, Va., Paul (Julie), Chicago, Mark, South Dakota and Charles (Lisa), St. Paul, Minn., and three grandchildren, Kai, Bergen and Esme.
The funeral will be live-streamed Saturday morning, Jan. 9 at 10:30 a.m. at the Minnehaha Funeral Home & Cremation Services Facebook Page. Gifts should be directed to the general fund of Benton Lutheran Church (Endowment), 46784 257th Street, Crooks, SD 57020.
Arrangements provided by Minnehaha Funeral Home.