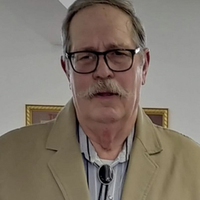 69
Salem, SD
January 1, 2021
Ron was born in Sibley, Iowa in 1951 to Andy Hugo and Vivian (Dagel) Bents-Post. He attended Sibley High School and was married to ViAnn Hofmeyer in 1970 at the First Reformed Church in Melvin, Iowa. They made their home in Baker Township in Osceola County, Iowa where Ron farmed with his father-in-law, Virgil. In 1984, Ron started his trucking career and moved his family to Sioux Falls in 1986. Ron continued long haul truck driving for many years, but due to declining health he began working many different daily routes driving in Sioux Falls for several more years. Sadly in 2014 he lost his wife, ViAnn.
Ron met Carol in 2016 at her job with Lewis Drug in Sioux Falls. They were married in 2018 at Faith Lutheran Church in Humboldt. They made their home in Salem where Ron enjoyed spending his time fishing, gardening and being with his family.
He is survived by his wife, Carol of Salem; his three children, Leah (Duane) Smith of Watertown, Cody (Delores) Bents and Jodi (Lance) Ducheneaux both of Mitchell; his seven grandchildren, David, Ora, Skyler, Daniel, Addison, Starr and William; one great-grandchild, Scarlett; his two brothers, Doug and Hank; one sister, Roben and one sister-in-law, Barb Bents.
He was preceded in death by his parents, his first wife, ViAnn and his brother, Andy.
A memorial service was held January 8 at Faith Lutheran Church (511 S. Main St.) in Humboldt. Arrangements provided by Kinzley Funeral Home.