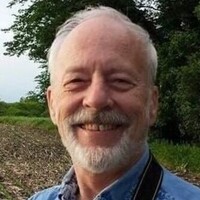 67
West Fargo, ND
January 28, 2021
Scott was born in Holdrige, Neb., June 7, 1953, to Lorraine and Delmar Pearson. From Holdrige, he moved with his family first to Sioux Falls and then to a farm outside of Crooks when he was 10 years old. He spent his formative years there helping his parents on the farm and being a big brother to his two brothers and two sisters. Scott graduated from Tri-Valley High School in Lyons in 1971 and studied at Augustana College before he moved to Fargo, N.D., and received his Bachelor's in Psychology from North Dakota State University in 1980. A man of many talents, he worked as a welder, served the public as a correctional officer, taught himself programming and became a computer programmer and worked with the homeless before settling into a semi-retired lifestyle working at Menard's Hardware in Fargo.
Scott was a kind-hearted and charitable man, even when being so was difficult. He gave money to every homeless person who crossed his path, stopped for every person stranded on the side of the road, donated his time and money to many charities and made a hobby out of building computers to give away to those who needed them. In addition, Scott had a passion for martial arts and earned a black belt in karate and a brown belt in Judo. He was also a lifelong artist, spending his spare time as an amateur composer, genealogist, writer and photographer. Known by his friends and family for his puns and jokes, intellect and kind heart, he brought light into the hearts and wisdom to minds of everyone who had the good fortune to meet him.
He is survived by his mother Lorraine Pearson; his siblings Gail Pearson, Judy Johnson, and Evan Pearson; his children Amy Gorder, Robert Pearson and Benjamin Larson-Pearson; his grandchildren Kaden McFarlane and Alexandra Saign; and his nieces and nephews Tristan Lien, Megan Rounseville and Steven Pearson. He was preceded in death by his father Delmar Pearson and his brother Gary Pearson.
Public visitation was held February 2 at Benton Lutheran Church, rural Crooks. Burial followed in the church cemetery where he will rest with his father and brother. In lieu of flowers, memorials may be directed to Churches United (Moorhead, Minn.) or the Great Plains Food Bank (Fargo, N.D.).
Arrangements provided by West Funeral Home in West Fargo and Minnehaha Funeral Home in Baltic.