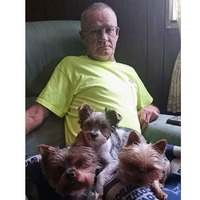 70
Colton, SD
January 9, 2022
Steve was born on June 26, 1951, to Francis and Donna (Willard) Foster in Flandreau. He grew up in Colton and Baltic and attended school in Baltic. He married Pam Schmidt on May 17, 1972, in Sioux Falls. Pam died on August 31, 1983. Steve worked as a truck driver all his life until retiring in 2019. He also helped area farmers.
On March 20, 1997, he married Marvis Hall. He greatly enjoyed his horses and fishing.
Survivors include his wife Marvis, Colton; children Jamie (Lisa) Foster, Baltic, Amy (Eric) Blissmer, Colman, Brian Foster, Sioux Falls, and Angie (Joel) Brown, Mankato; stepsons James (Vicki) Hall, Harrisburg, and Alan (Nicole) Hall; brothers Ken (Carol) Foster, Colton, Jerry (Robin) Foster, Baltic, Larry (Anita) Foster, Colton, and Mark (Stephanie) Foster, Baltic; sisters Connie (Michael) Melloon, Wentworth, and Mary (Kurt) Hoffman, Dell Rapids; 16 grandchildren; three great-grandchildren; and many nieces and nephews.
He was preceded in death by his parents; first wife, Pam Schmidt; stepson Joseph Hall; nephew Shannon Foster; and his grandparents.
A Celebration of Life will be held from 1-3 pm Saturday, January 15, 2022, at Baltic Corner, rural Baltic.
Arrangements provided by Minnehaha Funeral Home.