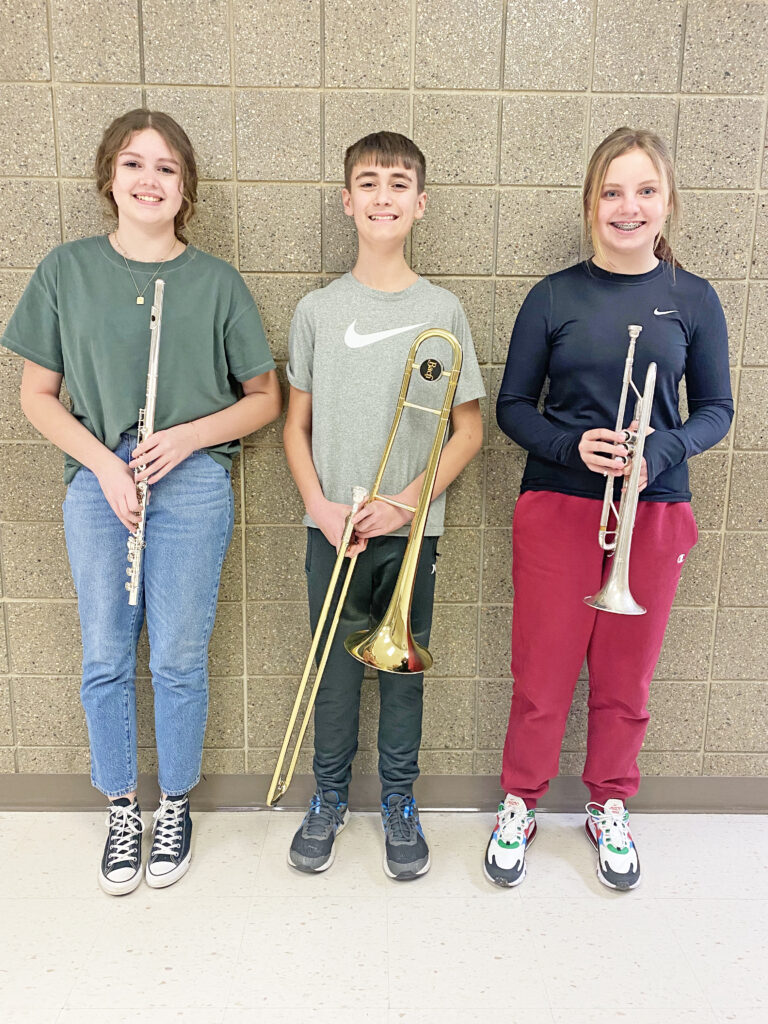 Sara Stadem | Editor
The South Dakota Music Education Association (SDMEA) will present the SD Middle School (MS) All-State Band and the All-State Jazz Band and the West Central Middle School will be represented by three students; Whitney Pageler (flute), Mason Kennedy (trombone) and Madison Empey (trumpet).
The SDMEA press release stated the All-State Jazz Band will be held on Saturday, February 5, at the Mitchell Performing Arts Center at 3 pm. There will be two bands under the direction of David Martinson and Ben Koch featuring 34 6th-8th graders with 8th grader Madison Empey representing West Central.
According to West Central MS Jazz Band Director Samantha Meirose, auditions for this were recorded and sent in with this year being Empey's second year participating in the All-State Jazz Band.
"Madison has worked very hard to get a spot in the Honor Band. She is excited to be performing this year because they weren't able to perform last year due to COVID," Meirose said. "I am really proud of what she has been able to accomplish this year and I look forward to hearing the performance in February."
The All-State Band will take place at the Mitchell Arts Center on March 5 at 3 pm with the concert featuring over 200 students that are in 6th-8th grade, according to the SDMEA press release. Students are from across the state and will be performing in two bands under the direction of Rebecca Warren and Dale Fiedler. Whitney Pageler, 8th grader, and 7th grader Mason Kennedy along with Madison Empey will represent West Central.
According to West Central MS Band Director Danny Eye, the auditions for the All-State Band were also recorded and submitted electronically which took place in December.
Although Empey was selected for All-State Band last year as well, she was able to participate as they did not perform due to COVID-19, according to D. Eye. He further explained this will be the first time all three students will be attending.
"Over 400 students from 80 plus schools auditions; 202 students were selected from 63 different Middle Schools in SD," D. Eye explained. He concluded, "These students worked really hard on their own, with private teachers and with Mrs. Meirose. I'm really proud of them getting into this top ensemble!"
There is a $5.00 admission fee for both concerts, according to the press release. Tickets can be purchased at the door the afternoon of the concert with students 18 and under being free.