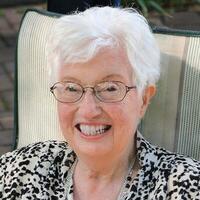 92
Friday, May 15
Hartford
Theresa was born in Adrian, Minn., on August 30, 1927, to John and Johanna (Brennan) Lewis, the fourth of six children. She attended grade and high school at St Adrian Catholic School and went on to Presentation School of Nursing in Sioux Falls. She graduated as an RN in 1950 and started her nursing career at McKennan Hospital's Labor and Delivery in Sioux Falls. She also worked several years at Immaculate Hospital's Pediatrics in Seattle, Wash.
Theresa married Patrick Whalen on June 21, 1952, at St. Adrian Catholic Church. They made their home in Hartford where she centered her life around faith and their growing family.
Theresa served as Religion teacher and on many committees for St. George Altar Society, was a member of Catholic Daughters' Association and the American Legion Auxiliary. She exuded humble grace and warmth and possessed a quiet, gentle wisdom that kept her large family together. She was always ready for a game of cards, loved dancing to big-band music, reading and baking. Theresa's baked goods were a favorite for all who knew her, and her baking lessons and recipes are especially precious to her grandchildren. Her ready, beautiful smile gave comfort to and will be remembered by so many. Surrounded by family, that loving smile was present to the end.
Grateful for sharing her life are Christine (Mike) Rich, Kathie (Bill) Heim, Mark (Joy), Pat (Janet), Colleen (Troy) Bassett, Mary Jo (Frank) Prawer, Lisa (Will) Walter, Maria (Dan) Hosley, Bill (Lesta); daughter-in-law Roxanne; 23 grandchildren, three step-grandchildren, 17 great-grandchildren, eight step great-grandchildren; and by her sister Margaret Clasen of Hutchinson, Minn., and a host of relatives and friends.
Preceded in death by her loving husband Patrick John Whalen of 62 years; her parents; two infant children; two sons Michael and Thomas; and four brothers, Edward, James, Kenneth and John Lewis.
In lieu of flowers, memorials can be made for Masses or to St. George Catholic Church: altar needs, cemetery fund, funeral committee or the Catholic Daughters' Association.
Private family Mass of Christian Burial was held Tuesday, May 19, at Saint George Catholic Church in Hartford. Private family interment was Wednesday, May 20, at Saint George Catholic Cemetery in Hartford.
Arrangements were provided by George Boom Funeral Home.