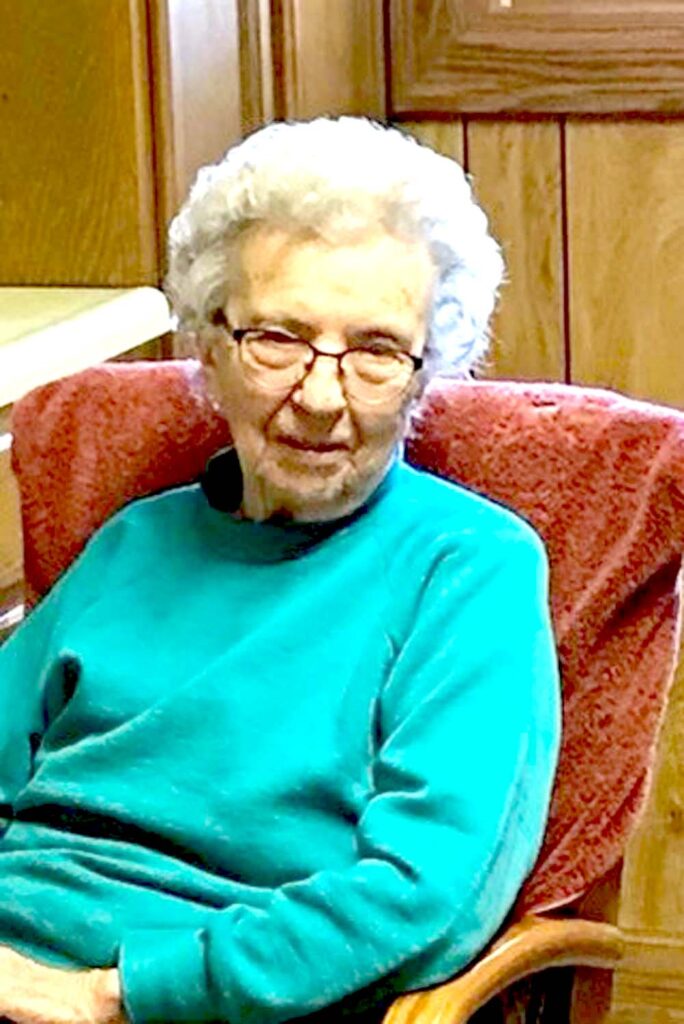 93
Kimball, SD
August 4, 2023
Agnes Piskule, 93, of Kimball, SD, passed away Friday, August 4, 2023, at her home surrounded by the love and prayers of her family. Funeral Mass was at 10:00 AM Friday, August 11, at St. Margaret's Catholic Church in Kimball. Burial will be at St. Margaret's Catholic Cemetery in Kimball. Visitation was Thursday from 5-7:00 PM at the Church with a prayer service at 7:00 PM followed with a Rosary. Arrangements by Bittner Funeral Chapel.
Agnes "Aggie" Catherine Piskule was born March 29th, 1930, to Columbus and Josephine (Hoelker) Sullivan north of Kimball, SD. Aggie attended Kimball High School and went on to receive her teaching certificate. She taught for one year at a country school near her home.
Aggie met her soul mate, Kenneth Piskule, and they were united in marriage on August 1st, 1949. They were blessed with four lovely angelic daughters, Debbie, Sharon, Lori, and Jo. (Remember heavy on the angelic.) Aggie and Kenneth worked as a team for almost 65 years until Kenneth passed away in 2014.
There was nothing Aggie could not do, from keeping her home intact, all aspects of farming and ranching, to baking the best goodies to eat. She loved to work, and when they had their work done, Aggie and Kenneth loved to attend dances with family and neighbors. When they danced, they were like butterflies floating across the dance floor. It was so easy for them because of their love for each other, exemplified by their union with God and one another. So many stories of good times and laughter filled all our lives as a family. Once a year, when they sold calves, it was a gathering of many for a meal, beverages, laughs, memories, and sometimes a game of pitch or liar's poker. Never will we forget those occasions. Family and friends gathered at our parent's house for so many good times. Mom was always selfless, never said a harsh word, and had respect and love for all people and animals. Her heart was full of sweetness that she shared not only with her children, but many neighbors and friends that also became family. Aggie welcomed everyone. After Kenneth passed away, Aggie and Deb kept the farm going. Mom loved going out on her 4-wheeler and the Gator to check her cows. When she finally slowed down, playing cards soon became a highlight for her. Thank you to everyone who took time out of their busy day to come play cards. Especially Dennis, Skyler, and David. ("Her Boys" as she called them). Mom seemed to get luckier as she got older, even when seeing the cards became more difficult. For some reason, one neighbor (Dennis) gave her the nickname of "Sleeves" since she always seemed to have the deuce or the joker appear out of nowhere and would either make her bid or set her opponent. Until the last few days of her life, Mom still had spunk. She did not want to give up. She held onto our hands with a grip that would not loosen even when she was asleep. Aggie was one of a kind and loved by many. She is and always will be our "Angel." If there was one wish we could have, it would be that every child could have parents like we did. You will be missed and never forgotten. Love you MOM.
Grateful for having shared in Aggie's life are her four daughters, Debbie (Randy) Smith of Kimball SD, Sharon (Jeff) Weber of Bridgewater SD, Lori (Leland) Goehring of Humboldt SD, and JoEllen (John) Stadler of Kimball SD, seven grandchildren, and 13 great-grandchildren.
Aggie was preceded in death by her husband, Kenneth Piskule, parents, Columbus and Josephine Sullivan, Joseph and Libbie Piskule, seven siblings, brother and sister-in-law, and one great-grandchild, Ashtyn Bergmann.