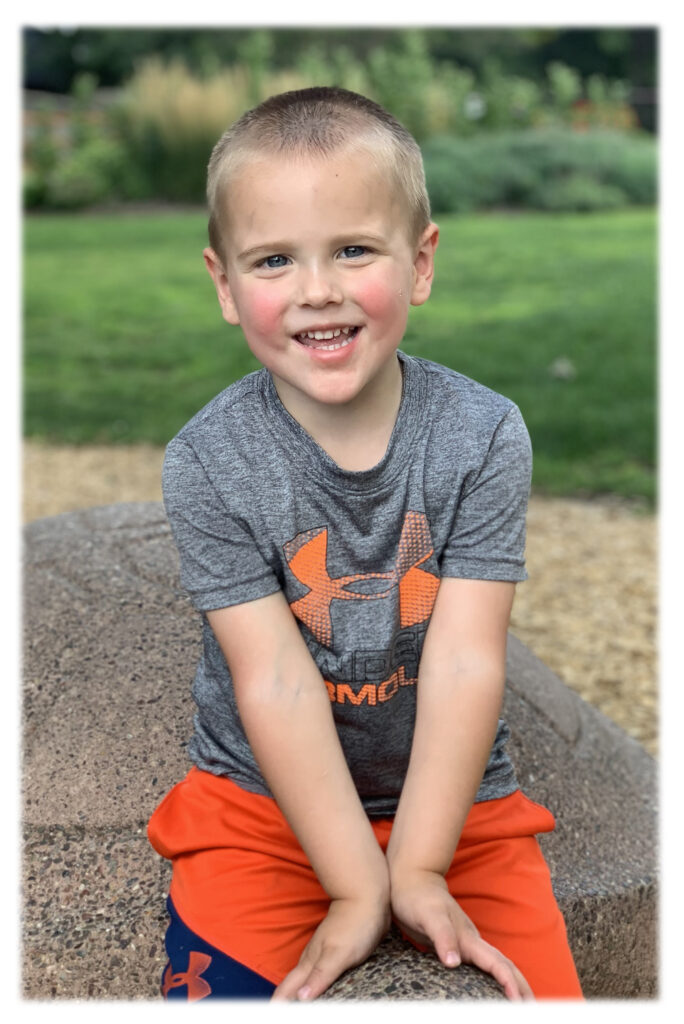 4
Sioux Falls, SD
November 12, 2022
Beau DeJong passed away unexpectedly at home on Saturday, November 12, 2022.
Beau James DeJong, son of Erik and Haley (Jones) DeJong, was born October 12, 2018 in Sioux Falls. He had a strong daycare family with other Roosevelt teacher's children in Nancy VanDeventer's home near RHS. Although he was the only boy throughout his time there, he loved his girlfriends and daily told stories of their adventures. Those experiences surely prepared him for his most proud role of being big brother to his new baby sisters, Brynn and Landry. Beau constantly referred to the twins as "my babies" and gave them constant love and affection; at times, too much!
This past August, Beau and the twins transitioned to a pre-school/daycare called "HIS Ark" within Resurrection Lutheran Church. It was there that he truly began to connect with classmates and talk about Jesus in his life. Every car ride home was filled with excitement and stories of that day's activities with friends and loving teachers. Teachers would regularly send pictures of Beau helping a friend build a puzzle or simply laughing in a big group of his classmates having a blast. His teacher, Miss Katy, worked so hard to give Beau special experiences he talked about through his last day. Beau LOVED going to school and we are grateful to those that made his time there meaningful.
It was clear that Beau was concerned about helping others. He was always helping his mom take care of his sisters, whether it was dropping them off at their daycare classroom or "buying" her a coffee to get through the day. He loved decorating his Amma's house at every holiday and helping Bumpa with the lawn. He noticed when people were sad, he noticed when people were mad and he loved celebrating with people when they were happy. He loved making a room laugh with his funny impersonations and dances to a new song he learned, always showing them off to his grandma, DeeDee. Beau loved playing cowboys with his grandpa Kelly, riding on his back like a bucking bronco. He was a creative little boy who lived for the spotlight but also found the person in the corner to sit by if needed. His magnetic energy and loving hugs will be forever missed by so many.
Family was so important to Beau. He had a special relationship with each and every family member. Weekends were always spent with family and Beau looked forward to it more than anything. Donut Saturday was spent at DeeDee's with grandpa and Pancake Sundays were spent at Amma's house with Bumpa and Auntie Beth. His two best friends were his cousins Lawson and Beckett and Auntie Mic and Uncle Trey loved to have him over whenever they could. Beau loved spending time with Auntie Taylor and Uncle Tanner and was so excited to have a new cousin, Parker. His favorite places were visiting his Great-Grandpa Jim and Great-Grandma Dixie in Sheldon, IA and going to Lake Mitchell with the Jones Family every summer. Whether you knew Beau personally or felt his lively spirit through shared photos and videos, it's clear he had an impact that reached further than his close friends and family. Erik also enjoyed sharing Beau with his Roosevelt family of staff, students and athletes – their immediate support in this difficult time shows just how loved he was by many. His parents promise to celebrate him and keep his spirit alive within them and his sisters, forever.
Grateful for having shared his life are parents, Erik and Haley (Jones) DeJong, Sioux Falls; siblings Brynn and Landry DeJong, Sioux Falls; grandparents Douglas and Sherry (Rang) DeJong, Kelly and Diane (Cole) Jones, Sioux Falls; aunts Micole (Trey) Manitz, Tea and Beth DeJong, Sioux Falls; uncle Tanner (Taylor) Jones, Sioux Falls; cousins Lawson and Beckett Manitz, Tea and Parker Jones Sioux Falls; great-grandparents James and Dixie DeJong, Sheldon IA and Cynthia Kirkpatrick, Cole Fitzgerald, Sioux Falls; and many more extended family and friends who will miss him dearly.
He is preceded in death by his unborn brother; paternal great-grandparents, Gordon and Reva Rang; maternal great-grandparents Dean and Connie Jones; maternal great-grandfather Myron (Mick) Cole.
Funeral services were provided by Miller Funeral Home.