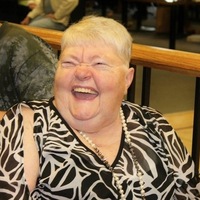 82
Sioux Falls, SD
January 20, 2022
Connie Lou Stoner, daughter of Charles R. and Lucille L. (Gage) Stoner, was born March 9, 1939, in Sioux Falls where she grew up and attended Washington High School. She married Merle E. Powell on October 5, 1957, in Sioux Falls. After their marriage the couple lived in Garretson for a time before returning to Sioux Falls. Merle preceded her in death on January 17, 2012.
Connie worked for Howard Johnson's for 25 years retiring in 1999. She then worked for the Good Samaritan Society for a few years. Connie enjoyed reading, camping, fishing, picnicking, polka and country western music. Connie loved dogs and even had a miniature dog collection. Mostly she enjoyed spending time with her children and grandchildren.
Survivors include her children Michael (Cindy) Powell, Hartford, Kenny (Jeanette) Powell, Harrisburg, Laurie (David) Kinney, Hidden Lake, Calif., Todd (Jodi) Powell, Lennox; 17 grandchildren; 34 great grandchildren; and a host of friends.
She was preceded in death by her parents; her husband; her daughter Wendy Powell; great-granddaughter, Jaycee Beckman; and two brothers Douglas and Noel Stoner.
Funeral services were held January 28, 2022, at George Boom Funeral Home & On-Site Crematory, Sioux Falls.
Arrangements provided by George Boom Funeral Home.