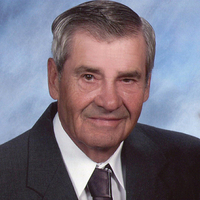 85
Sioux Falls, SD
November 18, 2021
Donald Francis Burggraff was born on November 5, 1936, in Sioux Falls to Math A. and Dorothy (Kueter) Burggraff. He was raised on a farm near Humboldt and began his education in country school for the first few years before attending St. Ann's Catholic School. Following his education Donald made his home in Sioux Falls and began working for Henry Carlson Construction. In 1962, he began his career with Illinois Central Railroad retiring in 1996. In his retirement Donald worked part-time for St. Michael Catholic Cemetery in Sioux Falls.
Donald was united in marriage with Mary Margaret Casey on September 5, 1964, at Christ the King Catholic Church in Sioux Falls. Donald was a member of St. Lambert Catholic Church, Knights of Columbus, the Moose Lodge and the Elks Lodge.
Donald and Mary were avid Sprint Car fans and also enjoyed bowling, playing cards and traveling. Don also loved spending time at his nephew, Paul Schartz's farm near Humboldt. He also enjoyed hunting and fishing. Above all, Donald loved spending time with his family. He was a loving husband, brother, uncle, great-uncle, great-great uncle and friend who will be deeply missed.
Grateful for having shared his life are his wife Mary Burggraff of Sioux Falls; two sisters, Marian Plagge of Sioux Falls and LaVonne Rose of Sioux Falls; two sisters-in-laws Anne Moritz, Azusa Calif. and Sally (Milo) Gilbertson, Vermillion; brother-in-law, Joe Schartz of Hartford; nieces and nephews Jeff (Linda) Schartz, Jeanita (Dale) Erickson, Pat (Bill) Pearson, Susan (Virgil) Tjeerdsma, Paul Schartz, Scott (Gayle) Schartz, Sheila (Kelly) Vis, Janet (Craig) Swier, Glen (Chelle) Gilbertson, Marty (Teresa) Gilbertson, Neil Gilbertson, Gary (Jodi) Gilbertson, Diane (Keith) Chagnon, David (Tamsen) Moritz, Douglas (Heather) Moritz, Kevin Knichrehm, Patricia (Todd) Ziccarelli and Colleen (Bret) Graves; 30 great-nieces and nephews; 18 great-great nieces and nephews; and a host of other relatives and friends.
Donald is preceded in death by his parents, Math and Dorothy Burggraff; special uncle Nick Burggraff; sister Donnabelle Schartz; brothers-in-laws Herman Plagge, Lyle Moritz and Harold Knichrehm; sister-in-law Jane Knichrehm; and great-great nephew Stephen Erickson.
Mass of Christian Burial was held November 23, 2021, at St. Lambert Catholic Church in Sioux Falls.
Arrangements provided by George Boom Funeral Home.