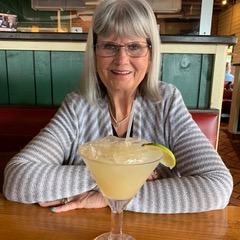 75
Hartford, SD
May 20, 2023
Donna Lee Wehrkamp, Hartford, passed away on Saturday, May 20, 2023, at Sanford Hospital with her family by her side. She was 75.
Visitation with the family present was held from 5:00 p.m. to 7:00 p.m., on Wednesday, May 24, 2023, at the Miller Funeral Home, Hartford. The funeral service was held 11:00 a.m., Thursday, May 25, 2023, at First United Methodist Church, Sioux Falls with burial at the Hartford City Cemetery.
She was born in Sioux Falls, to Harvey and Betty "Oestreich" Norby on January 29, 1948. She was in the 1st graduating class at Lincoln High School in 1966. Then shortly after she snuck out the window of her parent's basement and moved to California for 6 years. When she returned home, she worked a few odd jobs before she started 26 year long career at the phone company. On May 1, 1981, Donna met the love of her life, Layton Wehrkamp and on August 29, 1981, they were united in marriage. They lived on the family farm in Hartford, where they raised their two boys. After her retirement with the phone company, she worked a few years at Home Depot and Cigna.
She stayed busy running her children around to sporting events and being a farmer's wife, but in her spare time, she loved to paint and scrapbook. In recent years, she enjoyed going to Arizona to their winter home. She never stayed there too long because she wanted to get home to her precious grandchildren that she loved more than life itself. She also loved being extremely social with friends and family going out for lunch and the occasional martini, which was also the name of her beloved lap dog.
Grateful for having shared her life with husband Layton; sons and grandchildren, Joel (Kelli), Callen and Cade, Hartford and Jared (Angie), Ethan and Gianna, Sioux Falls; sisters, Janet Norby, AZ, Connie Symes, SD, Barb Timmons (Greg) CO; brother-in-law, Duane (Jean) Wehrkamp; sister-in-law Bonnie Spisak and several nieces and nephews. She was preceded in death by her parents Harvey and Betty; brother Jerry; grand-daughter Ginna "Baby G"; nephews Matthew and Daniel Spisak.
Funeral arrangements provided by Miller Funeral Home.