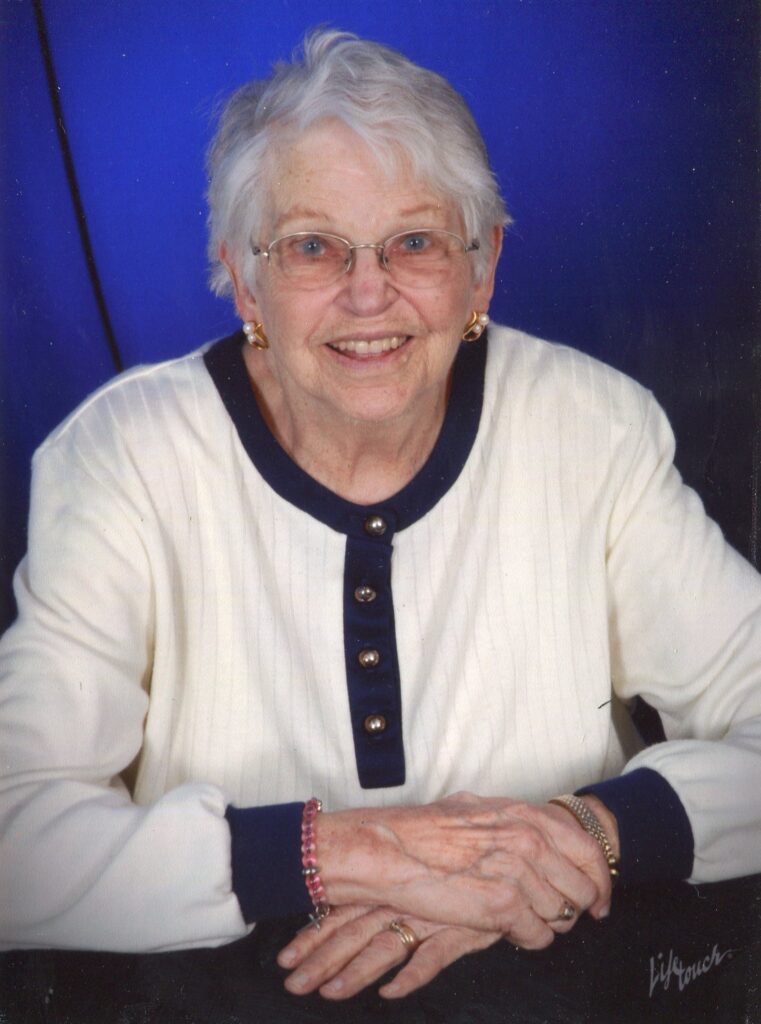 95
Hartford, SD
November 8, 2023
Eunice M. Lowe, 95, of Hartford passed away on Wednesday, November 8, 2023. Her Funeral Service was held 10:30 a.m. Friday, November 17, 2023 at Christ Lutheran Church in Hartford. Visitation was held on Thursday, November 16, 2023 from 4 – 6 p.m. at Miller Funeral Chapel in Hartford. Graveside services was at Beaver Creek Cemetery, Beaver Creek, MN. Consider Memorials to the Christ Lutheran Church Music Program in honor of Eunice. Visit www.georgeboom.com for an online guestbook.
Eunice Marie Lowe (Devries) was born on April 29th, 1928 to Gerritt and Henrietta (Cook) DeVries in Pipestone, MN. Her family moved to Luverne, MN when she was eleven where she graduated from Luverne High School. She was united in marriage to Milo Lowe on May 29th in 1946. They moved to Harford in 1962 where she was a homemaker until she moved to the Good Samaritan Luther Manor on May 18 of 2018. Of her many contributions to family and the community her greatest gift was for music. Although she was fluent in numerous instruments her greatest gift was her vocal talents. At the age of sixteen she auditioned at the University of Minnesota Musical program where she finished 2nd and was the youngest in the state to have made the list of finalists. Through her years of music, she auditioned and was accepted to perform with the Billy Graham Choir, the Sioux Falls Area Community Choir, South Dakota Sympathy for 22 years, and lead the Christ Lutheran Church Choir for numerous years. Perfecting and maintaining her vocal cords likely contributed by her ability to call every kid from a ½ mile or more away to the dinner table. The dinner table was the daily mandatory meeting where we all learned the values that were most important to her. Time with family, time to listen to their challenges and wins and most importantly, to give thanks to God for the blessings. Her demonstration of love and patience provided the required ingredients on how to raise a family. Her job description as a home maker was unique and extended way beyond the fences of home. As the official score keeper for coach Milo, she became the footprint for ESPN on how to use player statistics to formulate a winning game plan. Her gifts for contributing to the community continued by being involved as an active member of Christ Lutheran Church, Volunteer at the West Central Elementary and an active member of Senior Citizens Ladies Group. Through her years she enjoyed gardening, camping with friends and spending time with the children, grandchildren, and great grandchildren. Eunice will always be remembered for her infectious smile and angelic voice; a short summary of her life is best summarized by being selected by the South Dakota Centennial Community to write a note that is placed in the state time capsule to be opened in 2089. To not to jeopardize the integrity of her prediction for South Dakotans in 2089 we will only provide the last sentence of the letter that best describes her life's mission as a wife, mother, grandmother, great grandmother, and great-great grandmother…." Love your family and fellow man and may God Bless this earth that was given us to use and take care of" ….to be opened on November 2nd of 2089.
Grateful for sharing her life are her children, Barbara Mettler of Sioux Falls, Linda (Terry) Hagen of Hartford, Dennis (Charlene) Lowe of Sioux Falls, Doug Lowe of Chester, Brian (Tammy) Lowe of Lake Preston, Todd (Tina) Lowe of Hartford; daughter-in-law, Linda Lowe of Sioux Falls; 27 grandchildren; 63 great-grandchildren; 1 great-great-grandson; and a host of other relatives and friends.
Eunice was preceded in death by her parents; husband, Milo; sons, Bruce and Larry Lowe; her three sisters; grandson, Jamie Lowe; one great-grandson; and daughter-in-law, Julie Lowe.
Funeral services provided by George Boon Funeral Home.