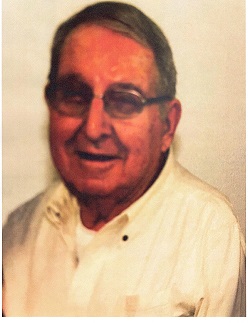 90
Humboldt, SD
January 16, 2022
Jim was born on June 19, 1931, in Emery, SD to Carl and Anna Jarding. He graduated from Humboldt High School in 1949. Upon graduation he enlisted in the U.S. Army where he served for approximately 1 ½ years. He was united in marriage on September 22, 1953, to Edith Lo-Rae Beck at St Joseph Wellington Church.
After serving in the U.S. Army, Jim farmed South of Humboldt until 1963. In 1963 he sold his farming operation and moved to Humboldt where he started as Rural Mail Carrier. He worked in that position until his retirement in 1996. Jim worked part-time also during that time for the local John Deere dealerships, Mortensen and Puthoff-Shumaker, setting up and delivering farm equipment.
In 1976 he joined his sons in business building and remodeling homes. He loved to spend his afternoons delivering material and working in the company shop building cabinets and furniture for his family and friends.
Jim was very committed to the Humboldt community. He loved to be part of events of all types including serving on the School Board, Development Foundation and Minnehaha County Economic Development Association. Jim especially enjoyed serving on the Volunteer Fire Department. He joined the department in 1963 and was integral to establishing the Ambulance Service. He served as chief from 1977 until 1991 and he was a charter member of the Minnehaha County Fire Chiefs Association.
He is survived by his wife Edith and children Charles (Paula) Jarding of Humboldt, Cynthia (Wayne) Mergen of Dell Rapids, Margaret (James-Deceased) Jarding of Sioux Falls, John (Jackie) Jarding of Humboldt, Donna (Jim) Schenkel of Brandon, Bob (Brenda) Jarding of Sioux Falls, 23 grandchildren and 49 great-grandchildren.
Family members who have proceeded him in death are his children James, Connie and infant son Gerald; his parents, Carl and Anna; his brothers Joseph, Tony, Louis, George; and his sisters Mary Elizabeth Mallinger, Cynthia Stoltz, Helen Marie Sieverding, Lilian Hentges, Eleanor Kueter and Janet Bowden.
Memorial mass will begin at 10:30 am on Saturday, January 22, 2022, at St. Ann's Catholic Church in Humboldt.
Memorials can be directed to St. Ann Catholic Church or the Humboldt Fire and Ambulance Service.
Arrangements provided by Kinzley Funeral Home.