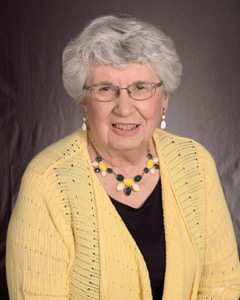 82
Hartford, SD
May 21, 2023
Joyce Lorraine Grave, loving wife, mother, grandmother, great-grandmother and friend to all who were blessed to meet her, peacefully entered her heavenly home on Sunday, May 21, 2023. She was 82. She passed away at Ava's House in Sioux Falls.
Joyce was born on October, 11, 1940 to James and Lorraine (Kampf) McLeod in Hartford. The graduated from Hartford High School in 1958.
On November 14, 1959, Joyce married her high school sweetheart, Lowell Grave in Hartford. They farmed together by Wall Lake during their 63 years of marriage. She worked for Hutton Tufty and Kramer's Livestock Auction for several years before starting her 20 year career with Day's Inn. Joyce then worked at the daycare in Hartford and Imagination Station. Joyce could work magic getting children to eat all sorts of things that they wouldn't eat at home.
She devoted her life to serving her family and community through her kindness, her positive outlook and her humor. Her faith in the Lord was demonstrated through her actions. She was an active member of Zion Lutheran Church and served on various committees along with hosting the yearly rummage sale for many years. She was a member of the Wall Lake Extension Club, Dakota Harness Club, Wall Lake Craft Club and a 4-H Leader. Her organizational skills were a contributing factor to the success of the Humboldt Threshing Bee for many years. Joyce and her husband were honored to be chosen as a past King and Queen of the Hartford Jamboree parade.
She loved seasonal holiday decorating and maintained a large snowman collection. Joyce was creative and loved doing crafts, cross stitching, sewing, gardening and playing cards. In her younger years you would find her and Lowell at the American Legion dancing the night away with friends.
In the center of her life were her family and friends. She cherished her grandchildren and loved attending their sports events. Her baked goods were delicious and often sought after. Holidays would bring an endless supply of baked goods, she made sure that everyone had their favorite! Joyce had a strong but warm sense of humor and would often be the sneaky instigator in playing elaborate pranks. It was all out of love. Blessed with selfless spirit, Joyce will always be remembered for her compassion, grace and as one that always put others first.
Grateful for having shared her life are her husband, Lowell Grave, Hartford; daughters, Linda Boll, Hermosa, Lori (Steve) Buckley, Papillion, NE, Lisa (Dan) Klein, Hartford; foster sons, Darrell (Pat) Schroeder, Hudson, Jeff Schroeder, West Port; six grandchildren, Jason (Jen) Booll, Justin (Tracy) Boll, Jessica Buckley, Jared Buckley, Alex Klein, Stormee Klein; foster grandchildren, Josh (Amanda) Schroeder, Jeromy Schroder, Travis ( Jessica) Schroder, Karen Schroeder; great-grandchildren, Jodiann and Jameson Boll. She is preceded in death by her parents and an infant granddaughter, Emily Boll.
A funeral service was held at 2:00 p.m., Thursday, May 25, 2023 at Zion Lutheran Church, Hartford. A visitation was held from 5:00 p.m. to 7:00 p.m. on Wednesday, May 24, 2023 at Miller Funeral Home, Westside Chapel, Sioux Falls.
Funeral services provided by Miller Funeral Home.