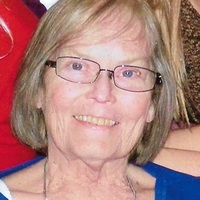 81
Humboldt, SD
March 26, 2023
Kathleen A. Petir, 81, of Humboldt, passed away Sunday, March 26, 2023 at Avera McKennan Hospital in Sioux Falls. Funeral services were held at 2 p.m., Friday March 31, 2023 at St. Ann 's Catholic Church in Humboldt. Visitation was at 6 p.m. on Thursday, March 30, 2023, with a 7 p.m. prayer service.
Kathleen was born on October 3, 1941. She grew up on a farm in Canton. She graduated from Canton High School, earned a degree at Mount Marty College and then worked as a Medical Technologist at McKennan Hospital for 45 years.
Kathleen met and fell in love with her farmer, Johnny Petri. One blind date on New Year's Eve led to 57 years of marriage. Johnny sold a truckload of oats to buy an engagement ring and they were married in Canton on September 1, 1965. Johnny and his beautiful bride lived on a farm north of Humboldt, where they built their life together and raised five children. Kathleen loved living at the farm (J&K Petri EST1965) where she enjoyed planting flowers and hosting family gatherings. A devout Catholic, Kathleen was a member of St. Ann's Altar Society and Catholic Daughters. She shared her gift of saying the rosary before mass every Sunday.
The loves of Kathleen's life included: her faith, her family and her husband Johnny. She believed that the best things in life aren't things: love and relationships, making time for and taking care of others, laughter, conversation, hugs and enjoying Johnny's company while eating his lemon meringue pie with a cup of coffee.
In her 81 years, she was a wife, mother, sister, daughter, teacher, rosary leader, tractor driver, grandmother and friend. We are so blessed to have shared Kathleen's life; she was the most generous, kind, humble, wise, patient, unselfish and beautiful person who touched the lives of all who loved her. A lesson we learned from Kathleen is to "add prayer, the add love".
She is survived by her husband Johnny, 5 children: Theresa Muth, Maria (Dean) VanDyke, Anne Petir (Mike Gukeisen), Beth (Jason) Anderson, John (Karen) Petri; 18 grandchildren, 4 great-grand children; 9 brothers and 6 sisters.
Kathleen was preceded in death by her grandparents Alfred and Mae Hurley, Dan and Margaret Ronan; parents Linus (Jack) and Ellen Hurley; son-in-law Rick Muth; in-laws Edward and Josephine Petri, Eddie Petri, Cecelia (Sis) Myers, Ronnie Petri and Robert Petri.
Funeral services provided by Kinzley Funeral Home.