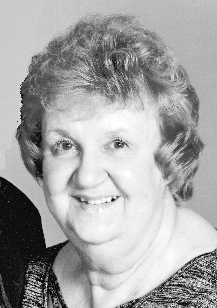 70
Sunday, April 19
Salem
Kathleen Ann Healy was born on Aug. 22, 1949, to Joseph and Florence Healy. She was the fourth of five daughters. She graduated from Montrose High School in 1967 and continued her education at Presentation College in Aberdeen. She graduated in 1969 and began her career as a registered nurse. She started a position with Avera McKennan Hospital, working in the surgical and labor and delivery departments from 1969 to 1981. She then took over the McCook County community health nurse position for 33 years before retiring in September 2014.
Kathy married Robert Deters on Oct. 11, 1980, at St. Mary's Catholic Church. Robert (Artie) and Kathy were blessed with two children, Jarad Robert on Nov. 5, 1982 and Emily Jo on May 8, 1990. Anyone who knew Kathy knew the love she had for her children. She was always eager to bring them up in conversation and the smile on her face shined whenever she talked about them. After retiring, she enjoyed writing and filling out anything with her beautiful calligraphy handwriting.
Kathy was a woman of great faith. If Kathy had you on her prayer list, you knew the Good Lord got them. She made sure her candles were lit every Friday and her daily rosaries were said. You would find Artie and Kathy in their normal pew at Saturday night mass. It was very rare that they missed a service.
Survivors include her husband, Robert, of 39 years, along with their two children, Jarad (Brenda) Deters of Colton and Emily Deters and fiancé, Josh Vanderloo, of Sioux Falls; her four sisters, Mary Ann Tuschen, Donna (Al) Gill, Rita (Ken) Krouse and Renie (Ron) Twedt, along with many nieces, nephews, cousins and friends.
She was preceded in death by her parents, Joe and Florence Healy; in-laws, Francis and Hilda Deters and many aunts and uncles.
A private family prayer service was held on Tues., April 21. A memorial mass will be held at a later date.
Arrangements provided by Kinzley Funeral Home.