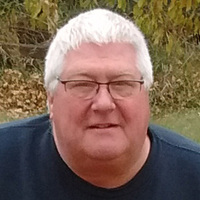 63
Hartford, SD
May 1, 2021
Kirk Egge, son of Donald and Joyce (Otten) Egge was born April 30, 1958, in Sioux Falls. He graduated from Washington High School with the class of 1976. Following high school, he enlisted with the United States Army serving until earning his Honorable Discharge in 1979. He remained active in the Army National Guard until his Honorable Discharge in 1991.
He was united in marriage to Linda Van De Kreeke on March 26, 1988. They were past members of First Reformed Church and were currently members of Good News Church. Most of his working career was dedicated to Firestone Tire, Interstate Auto, and most recently Oakleaf Auto.
Kirk was a lifelong racing fanatic and never missed a Saturday night and fit some Friday and Sundays in, too. He had been involved in all aspects from being an owner and car builder, driver, pit crew member and spectator. If he wasn't at the track, he was sure to be in the garage working on the cars that he took great care of or watching an auto-related television show. He was also into memorabilia but especially signs of all kinds.
Kirk was a loving and devoted husband and father. He had an infectious laugh and loved spending time with his grandchildren and attending as many of their events as possible.
Left to cherish his memory are his wife, Linda of Hartford; children, Chrystal (Trevor) White of Baldwin, Wis., Sara (Kiefer Lunn) Egge of Tea, and Brad (Mahogonie McCray) Egge of Sioux Falls; grandchildren, Jamie Tempel, Wyatt Tempel, Abel Egge and Easton Lunn; mother, Joyce Egge of Sioux Falls; siblings, Jill (John) Gaffney of Winter Haven, Fla., Melody (Steve Stachowiak) Egge of Highlands Ranch, Colo. and Marty (Lynda) Egge of Sioux Falls; father-in-law, Don (Carol) Van De Kreeke of Valdese, N.C.; and sister-in-law, Lori (Rob) Jameson of Texas.
He was preceded in death by his father, Don Egge; mother-in-law, Shirley Van De Kreeke and nephew, Matthew Gaffney.
Memorial services will be held at 11 am, Monday, May 10, at Good News Church in Sioux Falls. Visitation with family present to greet friends will be from 3-5 pm, Sunday, May 9, at George Boom Funeral Home & On-Site Crematory, Sioux Falls.
Arrangements provided by George Boom Funeral Home.