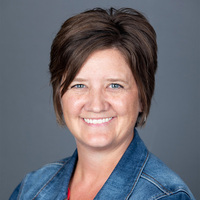 42
Rapid City, SD (formerly Brookings, SD)
May 3, 2021
LeeAnn was born to Ron and Becky Merwin on March 8, 1979, in Rapid City. As the oldest of 11 children, she took on her role as a leader at a very young age, mastering planning events and mentoring others while always demonstrating extreme patience. LeeAnn graduated from Sturgis Brown High School in 1997 and went on to study Mathematics Education at South Dakota State University. After many years as "just friends," she began dating Kevin Hanks in 2001. They married on December 21, 2002.
Before leaving Brookings, Kevin and LeeAnn had their first daughter, Brooklyn, and then they moved several times over the next year. They ended up living in North Dakota where their three younger kids, Owen, Cooper and Ada, joined their family. They eventually settled close to home to raise their four wonderful children. Their kids were LeeAnn's most proud accomplishment. She poured every ounce of herself into her children. They enjoyed traveling, watching movies, attending each other's events and taking care of their animals.
LeeAnn was also extremely passionate about teaching. She taught at Tri-Valley High School for two years, but took a break from teaching to be home with her children while Kevin began working. Once they moved back home, LeeAnn taught at Sturgis Williams Middle School for seven years. During this time, she also obtained her Master's Degree in Mathematics Curriculum and Instruction. In 2019, she landed her dream job teaching math at Western Dakota Tech. She spent many hours planning creative and unique lessons to engage every student in her class, correcting papers and ensuring each of her students' needs were met – both in and out of school. She deeply cared about all people and often went above and beyond to provide for others.
LeeAnn was kind, compassionate, outgoing and fun. She had a unique ability to speak to just about anyone and was the first to offer a hand to anyone or any pet in need. For several years, LeeAnn volunteered rescuing dogs from Pine Ridge and donating pet supplies, fostering numerous puppies and always finding them homes.
LeeAnn's constant smile will be remembered by many forever. Her life was a living example of Ephesians 4:32 – "And be kind and compassionate to one another, forgiving one another, just as God also forgave you in Christ."
On May 3, 2021, LeeAnn gained her angel wings. She will be deeply missed by her husband, Kevin; children, Brooklyn, Owen, Cooper and Ada; parents, Ron (Becky) Merwin; siblings, Carrie (Dan) Werlinger, Sam (Aaron) Odegaard, Megan, Katie, Riley, Robert, Ryan, Niya, Allison and Jackson; in-laws, Shari (Jerri) Hanks; brother-in-law, Justin (Kendra) Hanks; and numerous nieces, nephews, aunts, uncles and cousins.
Please join us in remembering LeeAnn Hanks at 2 pm on Saturday, May 15, 2021, at the Stagebarn Middle School, 1500 Sturgis Road, Summerset, SD.
Inurnment at a later date at Bear Butte Cemetery.