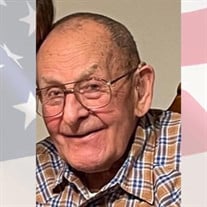 90
Greenfield, IN
(originally from Humboldt)
September 13, 2022
Leonard Clarence Meyer, age 90, of Shelbyville and Greenfield, passed away Tuesday, September 13, 2022. Born on March 9, 1932, in Humboldt, South Dakota, he was the son of Effie Cecil (Palmer) and Walter August Meyer. He graduated from Humboldt High School in 1950. Leonard received his Bachelor of Science in mechanical engineering from Evansville College and later got his master's degree from Purdue University. He was a veteran of the United States Army, serving from 1952 to 1954. While in the Army, he earned the Good Conduct Medal and National Defense Medal. He married Lois "Jean" (Cox) on July 22, 1953 in Fort Belvoir, Virginia.
Before retiring in 1987, he spent his career as an engineer working for Naval Avionics in Indianapolis. Leonard was a member of St. James Lutheran Church in Greenfield. In addition, he was a life member of the National and Indiana Societies of Professional Engineers, the American Legion and the Association of Retired Federal Employees. Leonard was known as a talker and could strike up a good conversation with just about anyone. With so much to say, he also enjoyed writing and even wrote two books that were published. He loved traveling and got to see all 50 states and over 20 countries with his wife, Jean.
Leonard is survived by his loving children, Karen Meyer of Tacoma, WA, Michael Meyer of Kissimmee, FL, Debbie (Meyer) Mowrey of Greenfield; grandchildren, David Mowrey (Esther), Daryl Emowrey (Shea), Darlene Mowrey, Alicia Espinal (Michael) and Julianne Meyer; great-granddaughters, Emilia and Violet Espinal; and sister, Wanda Artz (Ed) of Humboldt, South Dakota. He was preceded in death by his parents; and wife, Jean Meyer.
Visitation will be held on Monday, September 19, 2022, from 4:00 p.m. until 8:00 p.m. at Erlewein Mortuary & Crematory, 1484 W. US Hwy. 40, Greenfield, IN 46140. A funeral service will be held at the mortuary on Tuesday, September 20, 2022, at 11:00 a.m. Pastor Daryl Emowrey will be officiating. Entombment will follow at Washington Park East Cemetery in Indianapolis.
In lieu of flowers, memorial contributions may be made by mail to St. James Lutheran Church, 1741 S State St, Greenfield, IN 46140, or envelopes will be available at the mortuary. Friends may share a memory or condolence at www.erleweinmortuary.com.