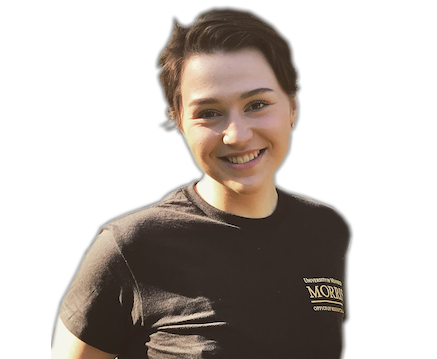 Sarah Ebeling | Managing Editor
For every crisis, there is always a silver lining — a positive that stands out amidst a tragedy. And as the COVID-19 pandemic continues to grip the nation, more and more positives are coming to the forefront.
Two thousand and sixteen West Central graduate Melissa Voss is quick to point out her blessings through the current crisis.
Although the senior at University of Minnesota Morris is set to graduate in May with a Bachelors degree in journalism, she now doesn't know if she and her classmates will be celebrating and walking across the stage.
Voss said it was heartbreaking for her to hear that her commencement ceremony which may now be postponed, was initially cancelled.
"I put four years of effort and to me, commencement was a ceremony that made all the work worth it. It was a moment of recognition," she said.
Voss noted that she also knew how much it meant to her family.
"My parents and grandparents bought hotel rooms in Morris and now had to cancel those reservations," she stated.
Voss explained that having the ceremony possibly postponed has made it easier on her mind.
"But in these unknown times, I am not sure if it will be executed as many hope, i.e, a ceremony on campus," said Voss.
She explained that in general she thinks there is not an overarching silver lining within society.
"We are right now engulfed in fear of the unknown and we don't know what tomorrow may bring. I am lucky to say my silver lining is that I am home with my family and we are all healthy. I know many people on my campus do not have this opportunity or privilege due to travel or other means, so I am extremely grateful to be home," Voss said.
Voss was home on spring break that had begun on Friday, March 13 when she was advised via email to stay home until further notice.
She noted that being away from her campus community has been the hardest part of this whole emergency.
"Now that the university has decided to keep all classes online, I realized that I had all of my 'lasts' as a senior without realizing it. I would say I was pretty involved on campus and to me, activities that brought me joy outside of the classroom. I feel as if I missed out on so many possible memories with the people I care about there," Voss said.
But, through it all, Voss is continuing to move forward. Classes have started up again for the graduate but she thinks it is going to be tough going from in-class to online. She said it is difficult to be online in certain disciplines but it has been an easy transition for her. Most of Voss' majors are composed of English and communication courses so they are easier to translate to an online course because it is mostly reading and discussion based.
"However, some of my friends on campus are art majors. They do not have the supplies needed to complete major projects or even smaller assignments so it will be interesting to see how their classes continue," she said.
Voss said that this experience has not been without concern though.
"I am worried about the mental health of college students, especially college seniors. We are graduating into a world of uncertainty. Jobs are unavailable, housing off-campus is a struggle for some and college debt is coming around the corner. It is important for all of us to know that we are there for one another in a challenging time and that we will persevere and thrive in due time," she concluded.