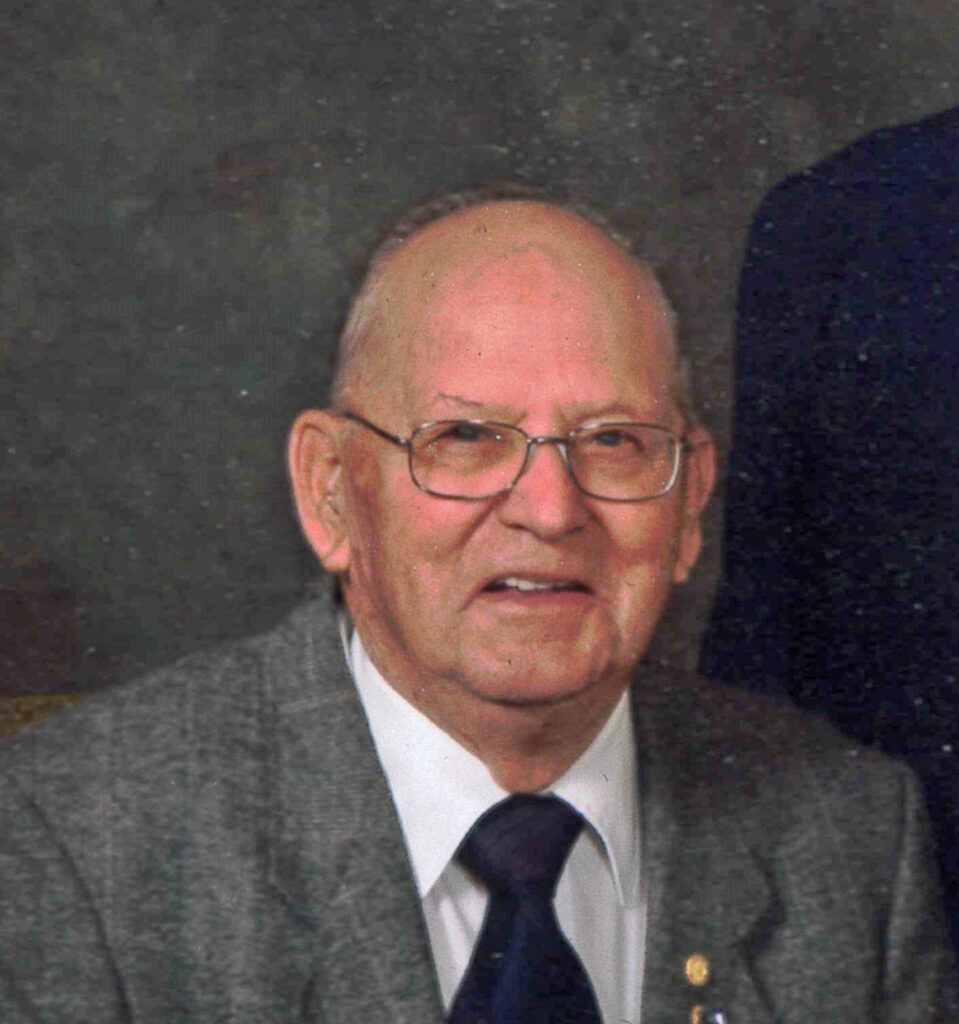 91
Dells Rapids, SD
February 15, 2023
Marvin Gustafson, 91, died in his residence at the Dells Nursing and Rehab Center in Dell Rapids surrounded by his family February 15, 2023, at the age of 91 years, 8 months and 14 days. Services were held Tuesday, February 21 at 2pm at the United Methodist Church in Colton, with Pastor Susan Jennys officiating. Memorials may be directed to Gideons International.
Marvin Virgil Gustafson was born at Dallas on June 1, 1931, the son of Carl and Zella (Lewis) Gustafson. He grew up on the family farm east of Dallas with his sister Gladys and Irene. They were kept busy on the farm and one of Marvin's early childhood memories was helping in the care of the huge garden, including picking potato bugs and throwing them in cans of used waste oil, to which this depression era enterprise paid him 5 cents a can. He started driving tractors and doing fieldwork at a young age. He was delegated some terribly dirty and dusty jobs at threshing time that brought allergic reactions that typically he had to, in his words: "wheeze scratch and just tough it out".
Marvin graduated from the Dallas Independent High School on May 18, 1949 in a class of nine. That fall he enrolled at South Dakota State College, where classes were considerably larger and course content much deeper that what he had experienced up to this time. College life presented many challenges to the farm boy from Dallas, but he persevered through it all. During his time in college, he made many friendships through his classes, dormitory life, Air Force ROTC and at his part time job in the student union. He always valued good friendships. One acquaintance that later bloomed marvelously was with a girl from Hurley majoring in Home Economics, named Marian Bishop.
Marvin graduated from SDSC with a Bachelor of Science Degree in Agriculture on June 8, 1953. In addition, he was commissioned as a 2nd Lieutenant in the United States Air Force. He entered active duty during the Korean Was as a Communications Office at Lackland Air Force Base in Texas, later served at Scott Air Force Base in Illinois and was finally stationed at a radar base in Sault Ste Marie Michigan. Marvin was honorably discharged with the rank of 1st Lieutenant on March 11, 1956.
Marvin married Marian Bishop in Hurley on July 25, 1955 and celebrated their 67th wedding anniversary this past July. Upon receiving his discharge from the Air Force, Marvin and Marian returned to Dallas to farm with his father Carl. Besides raising row crops and hay, they raised cattle and hogs. Marvin and Marian had their retirement auction in June 2008 and moved to Colton to be closer to family, leaving the farm after 52 years. During their time in Dallas, Marvin also was a rural mail carrier for over 35 years serving the Dallas and later Gregory Post Offices. At one time his mail route had him servicing patron in Gregory, Tripp and Lyman counties all in one day. Marvin was proud of the fact for all the years and all the miles he traveled, he was accident free for his entire career.
Marvin was a life-long member of the Methodist Church and relied on his faith and trusted in the Lord throughout his entire life, especially during his bouts with cancer and heart disease. He was a member of several organization, including but not limited to the SD rural Carriers Assn., Masonic Lodge, American Legion, Lions Club, Gideons and the National Assn. of Retired Federal Employees.
He is survived by his wife Marian; their two children, John (Anna) and Lois (Matt) Vogel; six grandchildren, Daniel Gustafson, Chelsea (Matt) Sorensen, Christina Vogel, Catherine Vogel, Jacob Vogel and Elizabeth Vogel. Special bonus grandchildren include Jesse (Ashley) Atteberry, Brandon Atteberry and Jasmine (Dan) Thelen. Bonus great grandchildren include Michael Atteberry, Blair Atteberry, Emmas Thelen, Harper Thelen and Huntley Thelen. He is also survived his sisters: Gladys Lantz, Omaha, NE and Irene Studenberg, Eugene OR, brother-in-law Kenton Bishop, Huntsville, AL, along with many nieces and nephews.
Marvin was preceded in death by his parents Carl and Zella; step-mother Marie; uncle and aunt Paul and Lillian Gustafson; brothers-in-law Bob Studenberg, Harvey Lantz, Richard Jensen, Ranald Bishop; sister-in-law Phyllis Jensen and two sister-in-laws both named Jean Bishop.
Funeral services were provided by Minnehaha Funeral Home.