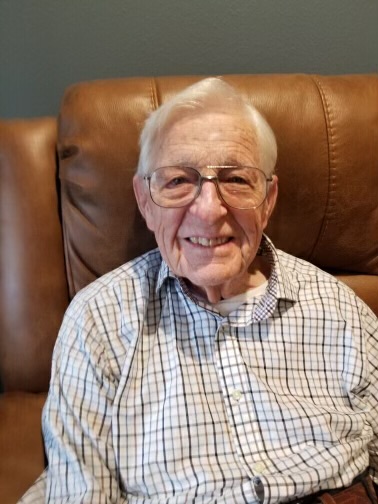 90
Sioux Falls, SD
(formerly Colton)
May 3, 2022
Noel H. Egan, age 90, of Sioux Falls, passed away on Tuesday, May 3 at Prairie Creek Memory Care in Sioux Falls in care of hospice. Funeral services were held on Saturday, May 7 at First Lutheran Church, Colton. Interment was in the Zion Lutheran Cemetery, Colton.
Noel was born November 21, 1931 on a farm near Colton, South Dakota to Luther Egan and Klara (Brattebo) Egan. The youngest of four boys, he was raised south of Colton and graduated from Lyons High School in 1949. Noel's studies at South Dakota State University were interrupted by the Korean conflict when he enlisted in the U.S. Air Force, serving three years on air bases in Rapid City and Sioux Falls. He returned to SDSU after the war and earned a degree in Agricultural Engineering in 1956. Noel worked for John Deere Company for over 30 years in various management positions in the marketing field across Iowa, Nebraska, Colorado and Texas.
Noel married Colleen Ormseth August 31, 1958 at First Lutheran Church in Sioux Falls, SD. Three children were born to Colleen and Noel: Teri Egan, Vermillion, SD; Murray Egan, Deer Park, IL; and Lisa Egan, Houston, TX. Colleen passed away on April 13, 1999. Noel married Jane Hustrulid November 20, 2001 at Peace Lutheran in Sioux Falls, SD.
Throughout his adult life, Noel enjoyed golfing, skiing, trapshooting, travel, reading, singing in choral groups and Toastmasters. He was active in his church, and a member of the American Legion. Noel honored a proud Egan tradition, by being adept at pulling off a good prank, telling a joke or story, or just brightening a room with his warm smile.
Grateful and richly blessed for having shared his life are his three children and their families, wife Jane and her family, and many other relatives and friends. He was preceded in death by his parents, three brothers, Keith, Jack and Neil, and infant sister.
Minnehaha Funeral Chapel, Colton, handled the arrangements.