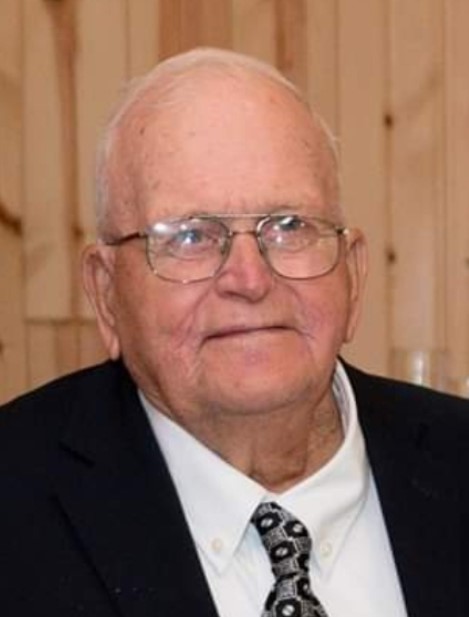 92
Sioux Falls, SD
November 14, 2021
Ordell Krogstad, age 92, of Baltic, died on Sunday, November 14, 2021 at Dougherty Hospice House in Sioux Falls.  Funeral services were held on Saturday, November 20, 2021 at East Nidaros Lutheran Church, rural Baltic. Interment was in the church cemetery. Memorials may be directed to the East Nidaros Cemetery or the Baltic Veterans Memorial.
Ordell was born on March 3, 1929 in Sioux Falls to Oscar and Agnes (Steen) Krogstad.  He was baptized and confirmed at the Willow Creek Lutheran Church. He graduated from Lyons High School in 1947 and South Dakota State University with an Agricultural degree. Ordell married Doris Winterton on June 25, 1950.  He served in the United States Army from 1951 to 1953. Ordell and Doris operated a dairy farm in rural Baltic with their family.
Ordell served the community in many different capacities:  Baltic American Legion, East Nidaros church council and head usher, Baltic School board, Farm Bureau, 4-H Dairy Superintendent at the Sioux Empire Fair and 4-H Leader, Land O'Lakes District board, Norse Glee Club, and caretaker at the East Nidaros Cemetery for 25 years. After retirement, Ordell was able to locate and buy his 300 Utility International that he bought new in 1957. After restoring it, he enjoyed participating in tractor shows and rides, especially the Yankton Old Iron Association tractor ride. He also spent 15 years assembling bikes at Toys R Us in Sioux Falls.
Survivors include his wife of 71 years, Doris, Children: Susan (Rod) Schaffer, Detroit Lakes, MN, Ronald (Kristi) Krogstad, Baltic, Robert (DeeDee Carey) Krogstad, Baltic, and Craig (LaDonn Powell) Krogstad, Renner: Grandchildren:  Melissa (Greg) Mostad, Todd (Heather) Schaffer, Ben (Tonya) Stoner, Andrea (Nathan) Chase, Amber (Mike) Lesnar, Scott (Jamie) Krogstad, Chet Hillstrom, Erik Krogstad, Tait Krogstad; Jacob (Marta Fitzer) Krogstad, Kirby (Sydney) Krogstad, and Natasha Powell; 10 great-grandchildren; sisters Vicky Howe, Doris (Arne) Brown, and Margaret Tidemann; brothers Adrian Krogstad and Glen (Carol) Krogstad; sister-in-law's Janet (Mike) Marsh, Charlyn Krogstad; brother-in-law Ken (Beverly) Winterton and many other relatives and friends.
He was preceded in death by his parents, Oscar and Agnes (Steen) Krogstad; infant son Dale; sister Madeline Winterton; and brothers Richard and Allen.
Arrangements provided by Minnehaha Funeral Home.