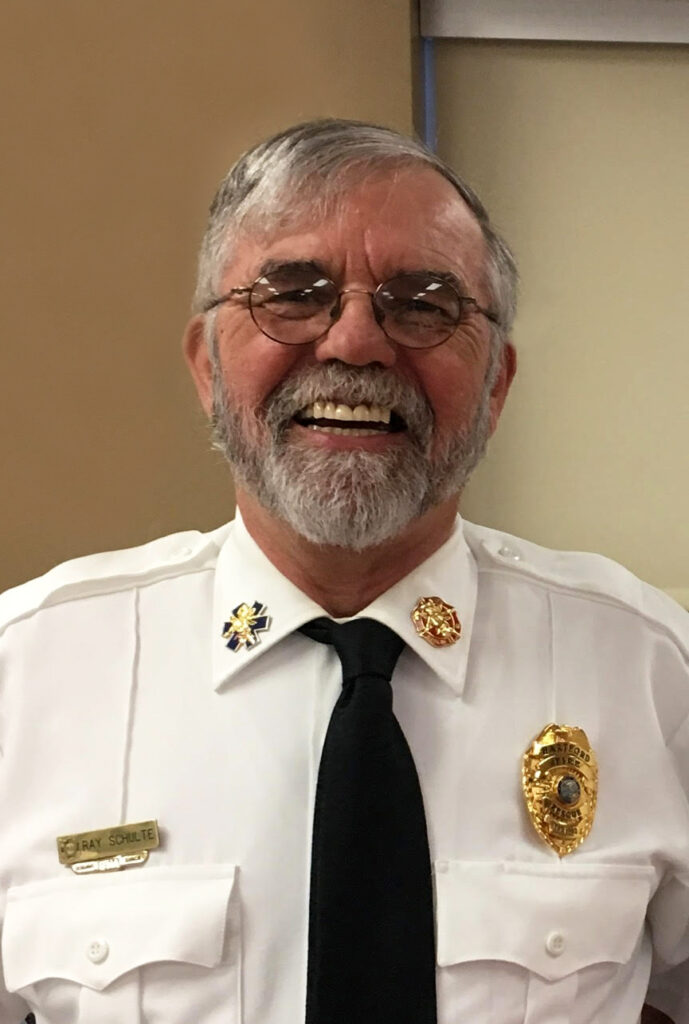 72
Luverne, MN (formerly of Hartford)
October 6, 2023
Raymond L. Schulte, 72, Luverne, MN, formerly of Hartford died peacefully on Friday, October 6, 2023 at Ava's House in Sioux Falls. Visitation was held on Saturday, October 14, 2023 at Hartquist Funeral Home in Luverne, MN. Burial with military honors followed at Maplewood Cemetery, Luverne, MN. Attendes were asked to come in casual attire. To sign on online registry, please visit www.hartquiestfuneral.com.
Raymond Lloyd Schulte was born on December 16, 1950 to Francis and Regina (Steilen) Schulte in Mitchell. He was raised in nearby Emery where he graduated from Emery High School with the class of 1969. He then attended Mitchell Vocational and Technical College where he studied electronics. He enlisted in the United State Air Force in 1971 and served his country for the next 4 years. He returned to South Dakota where he lived in Hartford. Ray was married and divorced to Janet Steele and later Dee James (Eriksen). He began employment at Union Telephone Company and after 42 years on the job, Ray retired from the company in March of 2018, which at the time was Golden West. He then worked part time from 2018 to 2022 at Justice Fire and Safety in Sioux Falls and Finley Engineering in Slayton, MN. Ray was a volunteer for the Hartford Fire and Rescue Team from 1977- 2010. He served as an Assistant Chief for 5 years and Fire Chief for 12 years. He was a very proud member of the Hartford team who developed a firefighter safety program that went on to be used by numerous other fire departments. Ray served as Vice President of the South Dakota Fire Instructor's Association, was a member of the Minnehaha County Fire Chief's Association and the South Dakota State EMT test team. He retired as a lifetime member of the Hartford Fire Department and Minnehaha Fire Chief's Association. Ray married Laura Earl (Ewoldt) on May 7, 2022. The couple made their home in Luverne, MN. On Friday, October 6, 2023 Ray died peacefully at Ava's House in Sioux Falls at the age of 72 years, 9 months and 21 days.
Ray enjoyed dirt track racing and watching his favorite television show, M.A.S. H. He was a member of the American Legion in Hartford. He served on the Hartford Race Track for fire and rescue and told the joke, "I left my heart in San Francisco – l left my toes at Hartford Race Track". The fire department was an integral part of Ray's life. He was always working to make things better and when he had free time, you could find him helping at the fire department. He loved serving his community and the comradery he had with his firefighting family.
Ray is survived by his wife Laura Schulte, Laverne, MN; son Lance (Ryan) Schulte, West Dundee, IL; several bonus kids and grandkids; siblings, Eileen Tobin, Parkston, Kathy (Paul) Iburg, Alexandria, Tony (Linda) Schulte, Freeman, Donna (Joel) Fluth, Emery David (Barb) Schulte, Mitchell and Mark (Michele) Schulte, Emery; other relatives and numerous friends. He was preceded in death by his parents; sister, Beverly Schulte.
Funeral services provided by Hartquist Funeral & Cremation.