Sara Stadem | Editor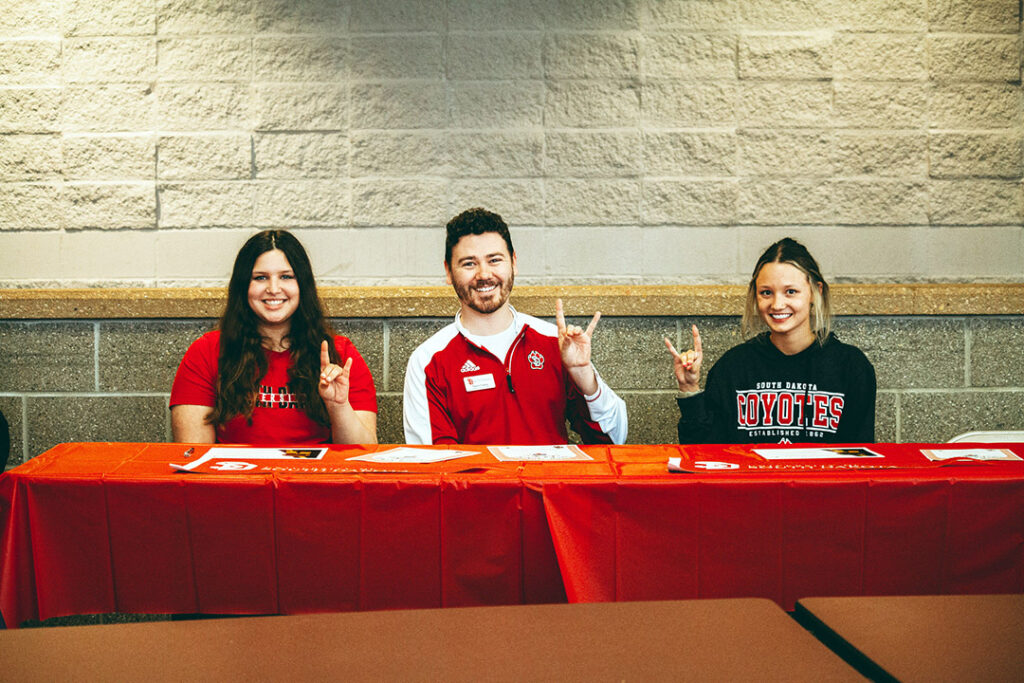 The Tri-Valley Education Association (TVEA) members shared ideas for ways they can build a strong and school involved association, with one of those ideas coming to fruition at the end of the 2021-2022 school year.
According to Bridget Ebert, TVEA President, Kay Dahl, the high school librarian, brought an idea of "Senior Signing" for future educators. "With a little research on other districts that complete this event, we reviewed their format and then made it to best represent Tri-Valley," Ebert remarked.
The TVEA is a committee that includes elementary, high school and middle school teachers. The TVEA Senior Signing event is a program made to honor those students heading into the education field by bringing in admissions and professors from USD (University of South Dakota), UND (University of North Dakota), SDSU (South Dakota State University) and USF (University of Sioux Falls).
Seniors and their families, along with Tri-Valley staff, were invited to share in the program with Ebert speaking along with English teacher Nicole Finnesand, FACS and Health teacher Rachel Sturm and Principal Brad McDonald.
Those students celebrated, as well as their school and field, included:
Brooke Andera – USD, Elementary Education
Taylor DeJong – SDSU, Family and Consumer Science Education
Mandy Flannery – USF, Art Education
Jenna Hansen – USD, Special Education and Elementary Education
Lauren Harstad – SDSU, Music Education
Rachel Nehlich – USD, Elementary Education
Maggie Skovlund – UND, Secondary Education Social Studies
Ebert explained, "The event was meant to bond our profession to our seniors and their families. It was meant to recognize their desire to share this profession with us, and I believe the parents and grandparents in attendance were thrilled to share in the moment too." She continued, "Often student athletes go through a signing process to make a commitment to an athletic team. We saw this as an opportunity to make that same visual commitment as well as be supported by so many Tri-Valley staff members. It was an awesome turn out. I am so glad we were able to have a short program with Mrs. Finnesand, Mrs. Sturm, and Mr. McDonald to share in the celebration of their journey into education."
When asked what it means to have students go into the field of education, Ebert said, "Truly, I believe that being an educator is the most amazing and greatest profession. It's about opportunities to make a difference in a life or lives of children, it's about building young people into independent and strong members of our communities, and even more so it is about being a support for all students no matter their needs." Ebert continued, "What a blessing that these young women, this year, have felt so moved by their teachers to join us in this field. They too have such a great opportunity to make the world a better place by become an educator."
Finnesand added, "It is so encouraging to see students pursuing a career that I love. I hope that they will be the next generation of caring educators to teach, care for, and lead our students. I believe teaching really is a vocation, a calling that pairs a person's skills and passions with a societal need." She continued, "I hope these students find that their skills and passions will be used for the benefit of their future students and communities. I was so proud to recognize these students!"
The TVEA plans to continue this event in upcoming years. Ebert explained it's a great way to support future educators and honor or recognize their desire to be in their profession. Ebert also explained that it's a very special time for all teachers to celebrate their profession with young men and women that are joining them in the amazing profession.
"As educators you hope that you help others see the value in education and being a lifelong learner. Seeing young men and women join us in this profession propels us to continue to feed them full of hope and encouragement to see that learning is a gift and teaching is a treasure," she said. Ebert concluded, "We welcome these fine young women into the education field and we cannot wait to see them change the world. TVEA wishes them the best and looks forward to their impact on others through this profession."