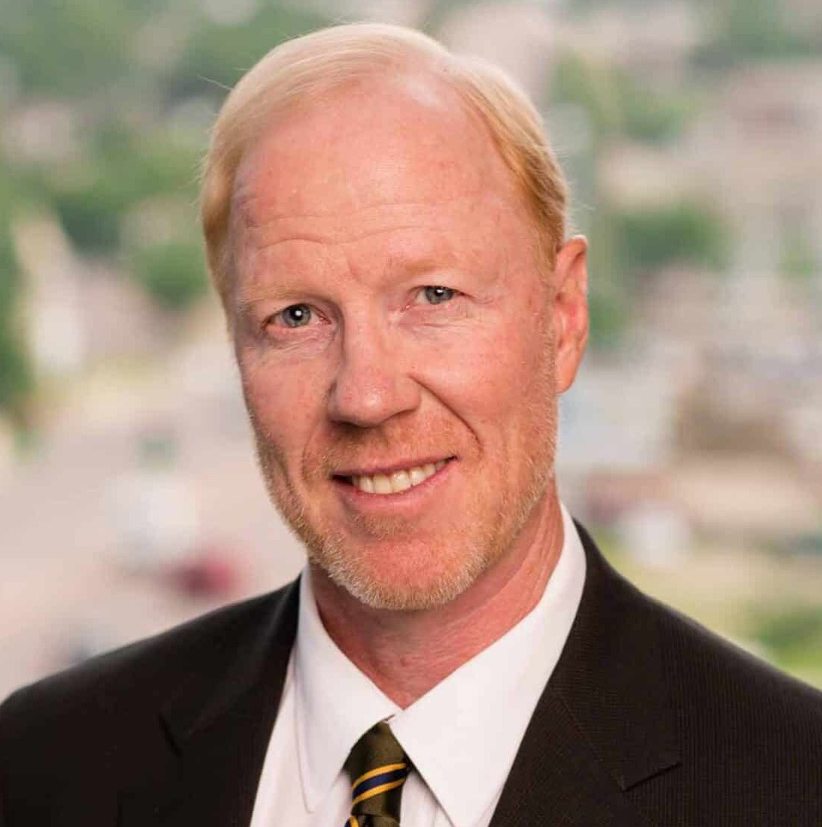 59
Sioux Falls, SD
April 2, 2023
Steve Oberg, 59, of Sioux Falls passed away on Sunday, April 2, 2023, under the care of hospice at his home in Sioux Falls. Memorial services will be at 2 p.m., Monday, April 10, 2023, at George Boom Funeral Home & On-Site Crematory in Sioux Falls. In lieu of flowers, memorials may be directed to the family for a future designation.
Steve Oberg was born January 19, 1964, to James and Margaret (Eller) Oberg. He grew up in and around Colton, where he graduated from Tri-Valley High School. After high school, he attended the University of South Dakota where he graduated in 1986 with B.S. magna cum laude. Steve spent a gap year working with troubled adolescents at the Youth Forestry Camp in Custer, before continuing with Law School at the University of Minnesota, where he graduated cum laude in 1990. In 1991, he relocated to Rapid City and joined the law firm Lynn Jackson Shultz & Lebrun. While in Rapid City, he was blessed with three beautiful and healthy children. In October of 2017 Steve was united in marriage to Racheal Hoversten Vockler. This marriage allowed him the blessing of being a dad to four more children.
Steve was a man of action with a zest for life! Steve was passionate for hunting and co-hosted an annual turkey camp with friends Dan and Brian. He has also been on fishing trips all over the United States, Canada and parts of Costa Rica. His love of the outdoors also included: camping, canoeing rivers and the boundary waters, boating and scuba diving, which had taken Steve to Mexico, Costa Rica and Africa. He experienced the thrill of sky diving, hot air ballooning and white water rafting. Backpacking was a great way to experience the outdoors of Wyoming, Idaho, Colorado, California, Washington, with the most recent summited of Mt. Kilimanjaro in September of 2022. From his high school days, he had a love of wrestling that lead to wrestling matches with the kids, their friends and even once a brown bear. Steve loved entertaining around the campfire and was sure to serenade anyone at any time with his guitar or harmonica. He had even written his own song about the family dog, Baxter. In recent years, he also enjoyed broad commentary provided by Rob Hart on 102.9 CFAR radio and the Flin Flon Bombers Hockey team. He was also a fine artist and author, often inspired by sites he had seen on his travels. Steve also has several work related accomplishments.
Steve was repeatedly name to the list of Best Lawyers in America in the areas of personal injury, products liability, commercial litigation and insurance litigation. Steve was a member of the American Association for Justice, South Dakota Trial Lawyers Association, Electric Coop Bar Association and American Board of Trial Advocates, as well as the South Dakota Second Circuit and American Bar Associations.
Steve was preceded in death by his grandparents, Floyd and Georgina Oberg, Joe and Dorothy Eller; uncles Don (Wanda) Oberg, Alfred (Irene) Eller and Howard Hoven.
He is survived by his wife, Racheal; children, Jack, Tess and Meg; bonus children Jordyn, Katie, Jake and Zach; parents, James and Margaret; siblings, Peggy and Wade; his aunt, Dian Hoven; nephews, Ryan Corrigan and Wesley Lowery; in-laws, Dave and Marilyn Hoversten.
Steve touched and inspired many lives. That was evident by the flood of family, lifelong friends and associated Steve was blessed to have known during his incredible 59 years on this planet.
An online guestbook and link to view the service are available at www.georgeboom.com.