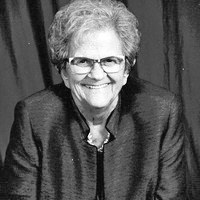 90
Tuesday, April 7
Humboldt
Viola Rothans, daughter of Lawrence and Margaret (Staebell) Rothans, was born Nov. 2, 1929, in Monroe County. Her mother and baby sister died in 1931 and she and her sisters were raised by their aunt Rose Staebell in Humboldt.
On Jan. 25, 1949, she married Eugene Fox at St. Ann's Catholic Church in Humboldt and they made their home in Humboldt where they raised their family and lived their entire life. Eugene passed away in 1985.
Viola was a member of St. Ann's Catholic Church where she was a 70-year charter member of Catholic Daughters, a charter member of Hartford/Humboldt Right to Life, was active in the Altar Society and also served on the funeral lunch committee. She loved gardening, playing cards and bingo and watching soap operas, figure skating and golf on TV.
Viola is survived by her children, Don (Patti) Fox of Sioux Falls, MarJean (Mike) Garrey of Humboldt, Gerald (Kellie) Fox of Humboldt, Deb (Joe) Sieverding of Tucson, Ariz. and Cheryl (Mark) Mammenga of Humboldt; grandchildren, Nicole Powell, Amanda Fox, Molly Lien, Katie Swenson, Jon Garrey, Michelle Fox, Amber Aanenson, Natalie VanDrongelen, Rebecca Gatewood, Laurel Altman, Melanie Mammenga and Megan Mammenga; 21 great-grandchildren; her sister, Veronica Groeneveld; good friend, Donna Lee Pesek and many nieces and nephews.
She was preceded in death by her husband, Eugene; her aunt Rose; her parents; grandson, Curtis Eugene Fox; sister Ardell Lewin; baby sister Donna; half-sister Joann Westrup and several brothers-in-law.
A private family funeral mass was held on Monday, April 13 at St. Ann's Catholic Church in Humboldt. Burial was at St. Ann's Catholic Cemetery.
Arrangements were provided by Kinzley Funeral Home.